Consumers Continue to Have Strong Emotional Ties with Iconic Brand.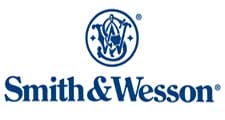 SPRINGFIELD, Mass.--(Ammoland.com)- We've faced tyranny on the battlefield together; helped tame the Wild West; kept the streets safe; and shared in successful days afield and fun trips to the range.
America celebrates its 237th birthday this week and its relationship with Smith & Wesson remains a close and longstanding one, as evidenced by a recent survey that listed the iconic firearms manufacturer as one of the country's most patriotic brands.
The survey of 4,500 consumers was conducted by a New York-based brand research firm, Brand Keys and published in the July 3 issue of USA Today. The survey results indicated that the Smith & Wesson brand is one of the 25 most patriotic brands in America, a result the company credits to its 161-year commitment to consumers, law enforcement and military customers, as well as its tireless support of Second Amendment freedoms.
Founded in 1852, Smith & Wesson is the third-oldest brand on the list and the only firearms manufacturer to be named. The list also included a host of other industry-leading brands and top market performers across multiple product categories.
""We have always considered our company to be an American Classic," said James Debney, Smith & Wesson President and CEO. "To be included on this list of most patriotic companies is a great honor. Our strong relationships with our customers and our commitment to serving our country will always remain our top priorities.""
About Smith & Wesson
Smith & Wesson Holding Corporation (NASDAQ Global Select: SWHC) is a U.S.-based leader in firearm manufacturing and design, delivering a broad portfolio of quality firearms, related products, and training to the global military, law enforcement, and consumer markets. The company's brands include Smith & Wesson®, M&P® and Thompson/Center Arms™. Smith & Wesson facilities are located in Massachusetts and Maine. For more information on Smith & Wesson, call (800) 331-0852 or log on to www.smith-wesson.com.