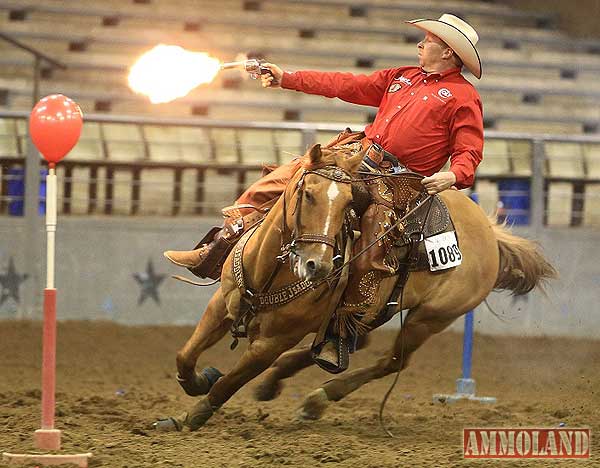 Murfreesboro, TN –-(Ammoland.com)- The Heat was on in Murfreesboro, TN at the Cowboy Mounted Shooting Association /Classic Equine Eastern US Championship with the top 5 competitors shooting perfect stages.
Over 230 CMSA mounted shooters engaged in 5 stages of competition with Chad Little, St. Michael, MN with an overall time of 77.216 taking the Overall and Cody Clark, Columbia, TN capturing the Reserve Overall spot with a 79.084. In the Women's division Dianne Lipham, Lynchburg, TN was the Overall Winner and Amanda Porter, Morrison, TN was Reserve.
In the Cimarron Eliminator Men's round, Chad Little, who currently holds 27 World Records, set a new world record time of 15.246 on course # 12.
The new Senior Incentive finals, sponsored Equine Mega-Omega, had 37 competitors and was won by Tracy Gooch, Red Oak, OK and Mark Rizzo, Oxford, CT in the Limited Division. Joyce Nelson, Okeana, OH and Chuck Chunn, Ft. Smith, AR won the Open Division. Sharon Hagedon, Granby, MO and Mark Tice, South Lyon, MI captured the Senior Overall bonus bucks sponsored by Platinum Performance.
Total payout for the Eastern US Championship was over $84,000 in cash and additional awards from our great corporate sponsors, including pistols from Cimarron, Ruger and Colt's Manufacturing firearms, and a lever action rifle from Taylor's & Co. Montana Silversmiths buckles were awarded for each class winner and Tony Lama boot certificates were given out in the Double Down competition.
Other action during the week was a benefit shoot for long time CMSA members Roy and Theresa Cox who lost their home in a fire several weeks ago and the Cowboy Clay Buster's Shoot, sponsored by Equipase, with proceeds going the CMSA Scholarship Fund.
The last CMSA event for 2013 will be the Tony Lama World Championship Event in Amarillo, TX at the Tri-State Fairgrounds on October 15-19th. Check out www.cmsaevents.com for all of the details on the schedule and entries for this event.
About the Cowboy Mounted Shooting Association:
The Cowboy Mounted Shooting Association (CMSA) is one of the fastest growing equestrian sports organizations in the nation. Mounted contestants compete in this fast-action timed event using two .45 caliber single-action revolvers each loaded with five rounds of specially prepared blank ammunition. The family-friendly CMSA offers multiple levels of competition for men, women and children, from the novice to the seasoned professional.
Organized in 1994, the CMSA now boasts over 100 local clubs in four nations, representing over 13,000 members. It sanctions over 600 events a year, including seven events at its highest level, the Championship Series, and pays out over $700,000 in prize money annually. To subscribe or advertise in the official CMSA magazine, THE RUNDOWN, contact our office at 888-960-0003 to request a media kit. For more information about the CMSA, visit cmsaevents.com, or follow us on Facebook at Facebook.com/Cowboymountedshootingassociation.