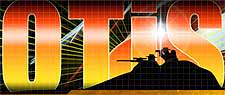 Lyons Falls, N.Y. –-(Ammoland.com)- Otis Technology is pleased to offer a new addition to their gun care product line – the Ripcord.
The Ripcord is the fastest, most effective, one-pass clean available.
Composed of heat resistant Nomex fibers braided over a molded rubberized core/cable combination, the Ripcord offers the ability to clean firearms properly from Breech-to-Muzzle in one quick and easy pass.
Nomex is the same material used in the protective gear trusted by firefighters, racecar drivers, and the U.S. military.  Since it is heat resistant to 700°F, it can be used right off the firing line without fear of it melting in your barrel.
The Nomex material acts as both a brush to loosen and a patch to capture fouling particles.  The molded rubberized core keeps the Nomex cleaning surface pressed against the bore, ensuring an aggressive all-around cleaning.  Additionally, the core is a helix shape, which helps engage the rifling throughout the length of the barrel.
Some added features to this one-pass cleaning tool are its ability to act as an obstruction remover for jammed cases and other blockages, and its 8-32 threaded ends for accommodating additional Otis cleaning components, if desired.
The Ripcord is simple and easy to use – just insert the longer, narrower end in the chamber and then pull it through from Breech-to-Muzzle.  Because of the rigidity of the Ripcord™, there is no need to gravity feed it through the barrel – making cleaning anywhere a breeze.
The Ripcord retails for $14.99 and is currently available in .22/.223 caliber, .308 caliber/7.62mm, 9mm, and .45 caliber, with other calibers coming soon.  They are sold at major sporting goods retailers, and online at www.otistec.com.
Otis Technology is known for manufacturing the most advanced gun cleaning systems available.  The superior Breech-to-Muzzle design combined with unmatched quality has positioned Otis as the gun care system of choice with the US Military.  Otis Technology is SMART GUN CARE.