Coatesville, PA –-(Ammoland.com)-  GideonTactical.com Went Live Today – Visit the Site and Experience Your Destination for All Things Tactical.
Continuing the tradition of Equipping Heroes Witmer Public Safety Group, home of TheFireStore.com, OfficerStore.com, theEMSstore.com, and HomeSafetyStore.com has assembled their latest website to serve the specialized equipment and supply needs of both tactical operators and shooting enthusiasts.
"GideonTactical.com is committed to serving the needs of operators and shooters who require more specialized gear." said Jim Witmer, CEO and Chairman of Witmer Public Safety Group, Inc. "OfficerStore.com serves the law enforcement community and we have seen increasing demands from our current customer base for more specialized products involved in tactical operations and those within the shooting sport world as well. Today GideonTactical.com is positioned to serve this specialized niche exclusively."
Many tactical websites enter the market with small manufacturers and a position of weak purchasing power. GideonTactical.com evolved from life on the street, the range and the latest operations. Big name manufacturers coupled with small specialized manufacturers and excellent purchasing power ensures you can find what you need and get it at a price that can't be beat.
In fact for the week of October 28, 2013 Gideon Tactical is offering Federal Premium's Independence 5.56 x 45mm ammo for an unheard of price of $225 per case. That's right, 500 rounds of NATO 55 Grain XM193I Full Metal Jacket, Boat Tail ammunition, normally sold for $240, now yours for $225 per case.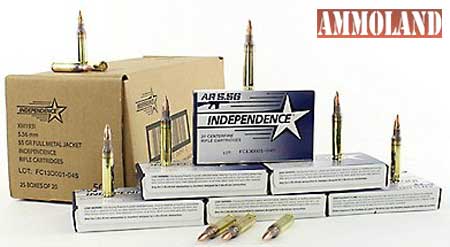 GideonTactical.com features products from familiar manufacturers like Aimpoint, AmeriGlo, BLACKHAWK, EOTech, Lancer Systems, Leupold, Magpul, Meprolight, Radians, Remington, Smith & Wesson, Weaver, and Trijicon. There are many more specialized partners featured on the new website. Names like BattleComp, Blue Force Gear, Centurion Arms, Elzetta, Fraser Optics, Geissele, Mesa Tactical, Troy Industries, TangoDown, and VooDoo Tactical. Among the new website's categories are hard gear, soft gear, range gear, protective gear, apparel as well as weapon storage and cleaning.
Visit GideonTactical.com today and see for yourself!
About GideonTactical.com and Witmer Public Safety Group, Inc.
GideonTactical.com, a division of Witmer Public Safety Group, Inc., offers product lines from hundreds of manufacturers. Witmer Public Safety Group's motto is Equipping Heroes™ and this continues as they extend their commitment to provide the industry's best equipment and supplies to tactical operators and shooting enthusiasts alike. For additional information, please call (800) 852-6088 or visit GideonTactical.com.
Contact Information
Robert Hlavacek, Public Relations Specialist
GideonTactical.com – a division of Witmer Public Safety Group, Inc.
484-288-6413