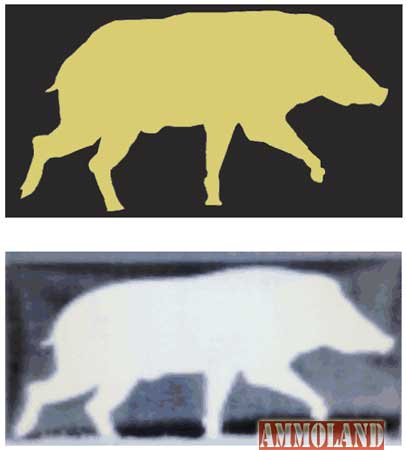 Minneapolis, MN –-(Ammoland.com)- Range Systems, a leading manufacturer of live fire shooting products for the military, law enforcement and consumer markets, introduces their new line of ThermBright passive thermal animal targets.
In 2012, Range Systems was appointed the exclusive distributor for ThermBright targets. Since then, the target offering has expanded from its core Military infantry and vehicle targets to include bulls eye, hog, deer, and coyote targets.
The animal targets are life-sized, and when viewed through a thermal imager or night vision device, they retain a crisp, clear, life-like image of the animal. With the tremendous need to address the growing hog population, night hunting, using thermal imaging scopes, has also increased, and with ThermBright hog targets, hunters can now sight in their expensive equipment on the thermal imaging targets before they head out hunting.
ThermBright targets utilize a proprietary advanced coating process that effectively reflects the cold energy of space when tilted backwards by 10 degrees. Using any in-service sights including night vision and fusion sights, the targets work effectively in daylight or at night, and will work in all weather conditions. What sets ThermBright targets apart from other thermal targets is they do not require any power source or batteries. They are also far more effective than using hand warmers taped to a target. The sturdy construction of ThermBright targets will endure 2,000 rounds of small arm fire before thermal degradation begins to occur. Additionally, patch kits are available to extend target life.
The MSRP on ThermBright Passive Thermal Targets ranges from $35.00 to $600.00. Hog and coyote targets cost $55 each.
For more information on the complete line of Range Systems products, please visit www.range-systems.com or contact Mike Pingel at 1-877-423-1785.