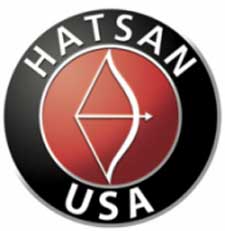 USA –-(Ammoland.com)- Hatsan, known throughout the world as a premier airgun manufacturer, has entered the U.S. market with HatsanUSA Inc.
To mark its debut, the company has turned up the cool factor with its tactical style air rifle that is perfect for target shooting, pest control and anything in-between.
The AT44-10TACT is able to shoot high-density lead pellets with a muzzle velocity of up to 1070 feet per second, squashing the common misconception that airguns just aren't that powerful. Available in three calibers – .177cal (1070fps), .22cal (970fps), and .25cal (870fps) – this tactical airgun is able to reach such powerful velocities by utilizing a Pre-Charged Pneumatic (PCP) system. The PCP system incorporates a detachable 180cc air cylinder for 200 bar fill (3000 PSI) to shoot at incredible velocities with nearly zero recoil.While the muzzle velocities of the AT44-10 TACT may be perceived as lower than other airgun manufacturers advertise, accuracy and energy upon impact are vastly superior. This is because Hatsan airguns are rated using heavier lead pellets while other manufacturers rate their airguns using lightweight alloy aluminum pellets. In fact, the use of alloy aluminum pellets in Hatsan airguns is not recommended, as their power can partially disintegrate lightweight pellets, greatly reducing their accuracy and effectiveness.
"Because of advancements in technology, people need to drop any negative, preconceived notions they have about airguns," said HatsanUSA Inc. President and CEO Blaine Manifold. "The AT44-10 TACT is a great alternative to a low caliber rife. Not only does it have comparable power, but pellets are both readily available and inexpensive."
Attention to power and accuracy are just the beginning of the AT44-10 TACT. This airgun looks and feels unlike anything else on the market. Its ambidextrous design features a removable telescopic stock, three Picatinny rails, a scope mount rail, and fitted sling swivels that allow users to accessorize their air rifle. It is fitted with soft rubber inlays on the forearm and grip for better feel and control, as well as Truglo fixed front and rear adjustable sights. It includes three detachable 10-shot rotary magazines for the .177cal and .22cal models and a 9-shot rotary magazine in the .25cal model.
Like all Hatsan airguns, the AT44-10 TACT is manufactured in Turkey with components that are nearly all made in-house, including a precision-rifled barrel made from high quality German steel, and a 2-stage fully adjustable Quattro Trigger. It also utilizes Hatsan's patented Anti-Knock system, which prevents gas wastage when the rifle is knocked or bounced, and an anti-double pellet feed mechanism to prevent more than one pellet loading into the barrel.
The MSRP of the A44T-10 TACT is $770.00
AT44-10 TACT
Pre-Charged Pneumatic (PCP) side-lever action
Available in .177cal (1070fps), .22cal (970fps), and .25cal (870fps)
Precision rifled barrel for accuracy – threaded for ½" UNF air stripper and fitted muzzle cap
Includes three 10-shot rotary magazines in .177cal and .22cal or three 9-shot magazines in .25cal
Three Picatinny accessory rails beneath and on sides of forearm
Detachable telescopic stock with adjustable comb
Detachable steel air cylinder tube with pressure gauge (180cc) for 200 bar fill (3000 PSI) pressure
Quick-fill nozzle and air cylinder discharge cap
Dovetail groove receiver for both 11mm and 22mm scope mounts
Manual Safety and Auto Safety
Anti double pellet mechanism – prevents more than one pellet load into barrel
Patented Anti-Knock system – prevents gas wastage when rifle is knocked or bounced
Adjustable rear and front site with Truglo fiber optics
Fully Adjustable 2-stage Quattro Trigger
Ambidextrous design
Includes sling
About HatsanUSA Inc.:
HatsanUSA Inc. gives U.S. customers the first opportunity to purchase Hatsan airguns, known and respected throughout the world for their premium Turkish craftsmanship, quality, and hard-hitting performance direct from Turkey. 
www.hatsanusa.com