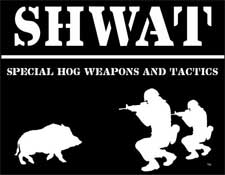 Abilene, Texas –-(Ammoland.com)- The remarkable Remington 700 Tactical Chassis Rifle is officially slated for launch at SHOT Show 2014, but here at SHWAT.com we have already shot it, photographed it and can now announce it to you!
This is an exclusive product introduction from Special Hog Weapons and Tactics in cooperation with Remington.
The other big news is that we're giving one of these Model 700 Tactical Chassis rifles away to one of our members.
So, buckle up! You are one of the first people outside Remington to get a look at this precision rifle.
Get the inside scoop at www.SHWAT.com now! https://tiny.cc/m1i85w
About Special Hog Weapons & Tactics:
SHWAT is the new center of gravity for tactical hog hunting. Special Hog Weapons & Tactics is a dynamic, game changing lifestyle brand, fusing together the tactical, hunting and feral hog control communities. Quality content and connections are rapidly coming together through partnering with credible industry professionals. Vendors are licensing the SHWAT brand. Conversations are growing on Facebook, Facebook.com/SHWATteam. That quality extends from our community and contributors, including our sponsors and writers, bloggers and videographers. Visit: www.shwat.com