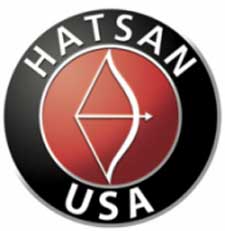 USA –-(Ammoland.com)- For many shooters, their first experience in shooting began with a BB Gun or airgun. In many cases, they were able to pass down their introductory gun to their children or younger family members.
While many well-known airgun manufactures of the past have cut corners to reduce the price of their products, the world-renowned craftsmanship of Hatsan has remained constant. The Model 95 Combo is testament to that.
The Model 95 Combo is one of the most sophisticated break barrel airguns in its market class and price range.
It features components that are nearly all made in-house by the Turkish manufacturer, including an elegant stock made from high quality Turkish walnut, precision rifled German steel barrel, and Hatsan's fully adjustable 2-stage Quattro Trigger System.
The airgun is also fitted with Hatsan's SAS Shock Absorber System that works to reduce recoil and a large muzzle break for easy cocking.
The Model 95 Combo includes a fully multi-coated 3-9×32 Optima Scope that easily attaches to the rifle's grooved dovetail receiver that fits both 11mm and 22mm scope rail mounts. It is also fitted with a micro adjustable rear site and an open front site both with TRUGLO fiber optics.
This finely crafted airgun is available in .177cal (1000fps), .22cal (800fps), and .25cal (650fps). Like all airguns from Hatsan, the Model 95 Combo's muzzle velocity is calculated by using the company's own high-density lead Vortex pellets instead of lightweight alloy aluminum pellets that have now become the industry standard. Although this technique results in slower advertised muzzle velocity when compared to other airgun manufacturers, shooters will receive a more accurate shot with greater energy upon impact when using the high-density lead pellets.
The MSRP of the Model 95 Combo is $206.96.
Model 95 Combo
Break barrel, single shot cocking system
Available in .177cal (1000fps), .22cal (800fps), .25cal (650fps)
Fully adjustable 2-stage Quattro Trigger System
SAS™ Shock Absorber System
High quality, genuine Turkish walnut stock – with ambidextrous design
Rubber butt pad for additional recoil absorption
Grooved dovetail receiver for 11mm and 22mm scope mounts
Large muzzle for easy cocking
Precision rifled steel barrel
Manual and automatic cocking safety
Micro Adjustable rear sight for both windage and elevation with TRUGLO® fiber optics
Open front sight with TRUGLO fiber optics
Includes 3-9×32 Optima scope
About HatsanUSA Inc.:
HatsanUSA Inc. gives U.S. customers the first opportunity to purchase Hatsan airguns, known and respected throughout the world for their premium Turkish craftsmanship, quality, and hard-hitting performance direct from Turkey.
www.hatsanusa.com
https://www.facebook.com/HatsanUSA