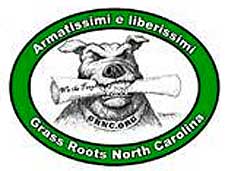 North Carolina –-(Ammoland.com)-Last week, a bipartisan coalition of 27 states and territories filed an amicus brief, or "friend of the court" brief, with the U.S. Supreme Court opposing the Obama administration's attempt to prosecute gun owners who wish to legally sell firearms to others.
The case, Abramski v. United States of America, could have far-reaching implications for law-abiding gun owners in North Carolina and across the nation.
The 26 attorneys general who signed the brief hail from Alabama, Alaska, Arizona, Arkansas, Florida, Georgia, Idaho, Indiana, Kansas, Kentucky, Louisiana, Michigan, Missouri, Montana, Nebraska, New Mexico, North Dakota, Ohio, Oklahoma, South Carolina, South Dakota, Texas, Utah, Virginia, West Virginia and Wyoming. Even the U.S. territory Guam signed the brief.
As West Virginia Attorney General Patrick Morrisey, the lead author of the states' brief, explained, "the Department of Justice wants to ensnare innocent gun owners in a web of criminal laws if they try to sell their guns. This federal overreach is a blatant attempt to overstep state regulations and Congress in order to steer more gun sales to federally licensed dealers, who then make federal records of every transaction."
In short, the Obama administration is illegally seeking a backdoor means to create a national gun registry—something Congress has long rejected.
Of course, not every state attorney general is concerned about ATF's underhanded effort to compile a national gun registry, or concerned about protecting the rights of law-abiding gun owners. The attorneys general who refused to sign the amicus brief come from the usual list of liberal, anti-gun states whose leaders salivate at the mention of gun control.
But there is one outrageous exception, one state that plainly should have signed this brief but didn't: North Carolina. We'd like to think our state's highest-ranking lawyer would oppose the blatant overreaching of Barack Obama and his ATF minions. But apparently, Attorney General Roy Cooper would rather side with Michael Bloomberg and his anti-gun cronies than join a majority of states in a bipartisan coalition defending gun owner rights.
It's not as if Cooper isn't aware of the case. The lead lawyer for Bruce Abramski, the former police officer ensnared in the Obama ATF power grab, is Richard Dietz, a prominent appellate attorney at the Kilpatrick Townsend law firm in Winston-Salem. The case has received national media coverage, including a supportive editorial in the Washington Times.
We reached out to Dietz about why Cooper—the attorney general of his own home state—wouldn't join this important brief defending gun owners. Dietz declined to talk specifics, citing the ongoing U.S. Supreme Court case, but he did confirm that both he and West Virginia's Attorney General repeatedly reached out to Cooper's office but were rebuffed.
No surprise. Roy Cooper has always been anti-gun. But he's tried to hide his anti-gun views to avoid upsetting supportive constituents, especially hunters and sportsmen down east. Now that Cooper is eying the governor's mansion—and worrying about appeasing his friends in the Moral Monday crowd—he has shown his true colors.
It's shameful that Cooper puts politics ahead of his job as Attorney General, and that he would so recklessly ignore the will of the people he is supposed to represent. With the legal briefs in the Abramski case already filed, it's too late to try to change Cooper's mind and have North Carolina join its sister states at the Supreme Court. But in 2016, Cooper will have to explain his anti-gun position to voters. And we'll be there, reminding the citizens of North Carolina that when the States stood together against Barack Obama's attack on law-abiding gun owners, Roy Cooper was nowhere to be found.
IMMEDIATE ACTION REQUIRED!
• Email AND Call NC Attorney General Roy Cooper.
• Tell him he does North Carolinians a disservice by putting politics before defending the rights of law-abiding gun owners.
• Help Rights Watch International (RWI) continue to defend your rights by donating HERE or go to: http://rightswatch.org/donate
Contact Information
CALL Roy Cooper: (919) 716-6400. Tell him you expect your Attorney General to protect and defend the Second Amendment rights of North Carolinians. Tell him putting politics before his duty to constituents is unacceptable.
EMAIL Roy Cooper using his webform HERE or at: http://www.ncdoj.gov/Home/ContactNCDOJ.aspx
DELIVER THIS MESSAGE
Suggested Topic: Other

Subject Line: Support Second Amendment Rights

Dear Mr. Cooper,

As you are aware, last week a bipartisan coalition of 27 states and territories filed an amicus brief with the U.S. Supreme Court opposing the Obama administration's attempt to prosecute gun owners who wish to legally sell firearms to others. The case, Abramski v. United States of America, could have far-reaching implications for law-abiding gun owners in North Carolina.

I am gravely disappointed by your lack of support for this brief, and for your unwillingness to defend the Second Amendment rights of North Carolinians. Federal attempts to ensnare law-abiding citizens who wish to legally sell firearms are inexcusable.

This is a clear case of putting politics before the rights of those who elected you. This will be remembered come election time.

I will follow progress on this issue through Rights Watch International alerts.

Sincerely,
About:Grass Roots North Carolina is an all-volunteer organization dedicated to preserving the freedoms guaranteed us by the Bill of Rights. Our main focus is the right to keep and bear arms. GRNC was central to drafting and passing North Carolina's concealed handgun law and since that time has continued to push for improvements to gun laws. Visit:www.grnc.org