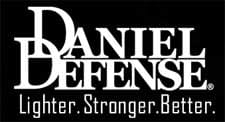 Las Vegas, Nevada –  Daniel Defense, engineering and manufacturing the world's finest weapons systems, precision rail systems and accessories, today announced new complete rifles, upper receiver groups, rail system, buttstock and pistol grip for 2014.
Daniel Defense has also tapped into a new technology, allowing users a three dimensional experience of their DDM4 rifles using an app developed for iPad.
First featured in the Daniel Defense issue of Book of the AR15 released Christmas Eve, the new MK12 by Daniel Defense is constructed around an 18" Stainless Steel barrel, with a chamber created during the Cold Hammer Forging process. Even with a barrel and gas block to US Special Operations Command (SOCOM) specifications, Daniel Defense put its own spin on this legendary platform.
Known for their rifles such as the DDM4v1 and V7, Daniel Defense unveils the DDM4v9, chambered in 5.56mm. Centered around a 15-inch quad rail, the DDM4 Rail 15.0, the V9 will be available in three different barrel options: 16-inch Government, 16-inch Lightweight, or 18-inch Strength-2-Weight (S2W®).
Since 2006, Daniel Defense has incorporated Flat Dark Earth (FDE) into the M4A1 and MK18 RIS II models.  This year, four of Daniel Defense's most popular rifles-M4A1, MK12, V5 LW and V7- will now be available in a similar finish labeled Daniel Defense Mil Spec+.  In addition to the upper and lower receiver, as well as rail system, the buttstock, pistol grip and vertical grip will match the Daniel Defense Mil Spec+ color.
The lightest rail system on the market is known as the AR15 Lite Rail from Daniel Defense.  The third generation, the AR15 Lite Rail III, is also being introduced this year.  Even lighter than its predecessor, the Lite Rail III is crafted from one extrusion, not a two-piece welded assembly like the first generation rail system.  In addition to front and rear QD swivel attachment points that are integrated into the design, the AR15 Lite Rail III utilizes the patented bolt-up system that requires 4 bolts instead of 6.  It is available in a 7.0, 9.0, 12.0, 12.0 FSP, or a 15.0 rifle-length rail.
Aesthetically, one of the most noticeable changes to the entire line of DDM4 rifles is the new buttstock, pistol grip and vertical grip; a Daniel Defense product.  Uniquely Daniel Defense, the new furniture enhances the look, while improving functionality.
The Buttstock has an enhanced cheek weld with soft touch rubber overmolding. Limited rotation QD swivel attachment points on either side provide another option to the rear receiver attachment point present in all DD models. The trigger allows for easy removal and it comes with interchangeable buttpads to create the right fit.
The Pistol Grip was designed to be more ergonomic than the traditional A2 pistol grip used by Daniel Defense since their first rifle was assembled in 2009. Its grip angle is equivalent to the 1911. Soft touch rubber overmolding not only matches that of the buttstock and vertical grip, but allows for a more firm hold.
Daniel Defense Vertical Grip was modified slightly to give the user better control while maintaining a consistent look. While the overall size and functionality has not changed from the previous design, the soft touch rubber overmolding was incorporated as part of the design.
"We are excited about the new products for 2014," says Marty Daniel, President and CEO of Daniel Defense.  "We have taken to heart feedback provided by our customers which has resulted in the offerings being presented at SHOT Show this year."
While it may not have a mil-spec or Geissele trigger, the new iPad App from Daniel Defense redefines the trigger application.  The Daniel Defense AR Experience— AR being an acronym for Augmented Reality— gives users a different type of interface with the platform.  Print ads, acting as triggers for the app, launches an amazing 3D experience on screen and lets the user rotate, tumble and zoom as well as provides narrated explanations of components when selected.   The DDAR app is free on iTunes. CLICK HERE to learn more.