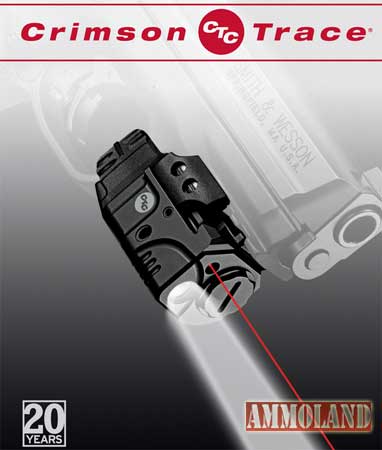 Wilsonville, OR – -(Ammoland.com)- When Lewis Danielson and his fellow engineers in a small Portland, Oregon area machine shop began tinkering with laser sighting devices for handguns in the early 1990s, they had no idea that they were launching a new company and creating a shooting industry leader.
After developing Lasergrips for a Glock handgun, the interest and orders began rolling into the small shop. In 1994, Crimson Trace was officially established.
In the 20 years since that founding era, the company has been innovating, growing, and leading.
Across the years, the many accomplishments have included:
Fulfilling a Department of Defense contract for Lasergrips for the Beretta M9 pistols for US troops serving in Afghanistan.
Receiving seven Shooting Industry Academy of Excellence Awards.
Creating new product categories that include Lasergrips, Laserguard®, Lightguard®, Rail Master®, and the Defender Series®.
Creating two educational DVDs about laser sights, including The Lasers Edge that has reached more than half a million firearms owners across America.
Earning recognition from, and creating partnerships with, the National Rifle Association.
Creating and hosting the popular and industry recognized Crimson Trace Midnight 3-Gun Invitational that has enrolled more than 300 competitors. The event's open registration period filled within an hour when the 2014 registration period opened.
Producing more than 150 laser sight and light products that fit onto the firearms of nearly 20 manufacturers.
Continuing to engineer and manufacture all Crimson Trace products in America.
Creating the Crimson Trace Club.
Becoming the premium laser installed in the factory on several handgun models by firearms manufacturers including: Beretta, Bersa, Charter, Colt, Kahr Arms, Kimber, Para, Remington, Ruger, Sig Sauer, and Smith & Wesson.
Developing a nationwide network of dealers and sales representatives to better serve gun shops—and their customers.
Passing the president of Crimson Trace position from founder Lew Danielson to Lane Tobiassen.
Establishing a laser training course with the prestigious Gunsite Academy in Arizona.
Crimson Trace will celebrate 20 years in the industry during the upcoming Shooting, Hunting and Outdoor Trade (SHOT) Show in Las Vegas. There the company will introduce more than a dozen new products—and start the next 20 years. Leading the list of new products will be the company's innovative Rail Master Pro, a combination light and laser unit that's available with red or green lasers. More details are available at: www.crimsontrace.com or by calling 800-442-2406.