Adaptable 500 FLEX Platform in Convenient Soft-Sided Carry Case.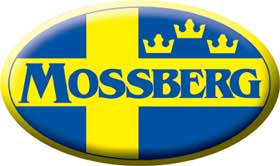 North Haven, CT –-(Ammoland.com)- Joining the 500 JIC (Just In Case) Series is the most unique offering yet – the Mossberg 500 JIC (Just In Case) FLEX shotgun with 6-shot capacity, conveniently stored in a compartmentalized, soft case.
With the addition of the FLEX TLS (Tool-less Locking System), this 12-gauge 500 pump-action can easily, without the use of tools, be converted from a compact, versatile and transportable shotgun to a foul-weather hunting tool to a security shotgun in seconds!
When mobility and packability are concerns, Mossberg's line of versatile 500 JIC Series pump-action shotguns has six convenient solutions for active lifestyles or emergency preparedness. Based on the 12-gauge 500 Cruiser pistol grip platform, the JIC shotguns are self-contained in compact and transportable water-resistant tubes (JIC 8-Shot, JIC Cruiser®, JIC Mariner®, JIC Sandstorm™ and JIC Patriot) and new for 2014, the 500 JIC FLEX in a compact, soft carrying case with convenient shoulder strap. Ideal for backpacking, boating and general readiness, the 500 JIC Series is designed for owners who require versatility and protective storage options.
The FLEX TLS System is the ultimate, adaptable platform with its patented series of three connectors that allow stocks, forends and recoil pads to be reconfigured for a variety of hunting/shooting applications or for a custom-like, individual fit. Stocks can be interchanged with the simple lift and turn of the TLS latch on the receiver; remove the stock and slide the replacement stock onto the connector. Once aligned, simply turn the TLS latch 90 degrees clockwise and close the latch, locking the stock firmly in place. Forends and recoil pads are designed with TLS release buttons; when pushed, allow for the replacement of those components. The 500 JIC FLEX accepts all FLEX TLS accessories and Mossberg's extensive line of 12-gauge accessory barrels for unparalleled versatility.
Standard features on the 500 JIC include durable black synthetic pistol grip; compact 18 ½-inch cylinder bore barrel with front bead sight; 6-round total capacity (2 ¾ inch); non-reflective, matte blue metal finishes; front mag cap and rear sling swivel studs; and Mossberg's universally-recognized ambidextrous top-mounted safety. The handy JIC FLEX carrying case measures 22.4 x 8.4 x 4 inches and features compartments to easily store all components. (57340). MSRP: $502
The Mossberg 500 JIC Series provides storage solutions for the owner with an active lifestyle or those who want to be readily-prepared at home or in the field. Now with the ability to reconfigure your shotgun for a variety of hunting and shooting applications with the FLEX TLS System; you have no excuse to not be prepared with the 500 JIC FLEX shotgun!
About O.F. Mossberg & Sons, Inc.
Founded in 1919, O.F. Mossberg & Sons, Inc. is the oldest family-owned firearms manufacturer in America, and is the largest pump-action shotgun manufacturer in the world. Leading the way with over 100 design and utility patents to its credit, and standing as the first ISO 9001 Certified long-gun manufacturer, Mossberg is considered to be one of the most innovative firearms manufacturers in U.S. History. For more information on commercial, special purpose, law enforcement and military shotguns, rifles and accessories, please visit their website at www.mossberg.com.