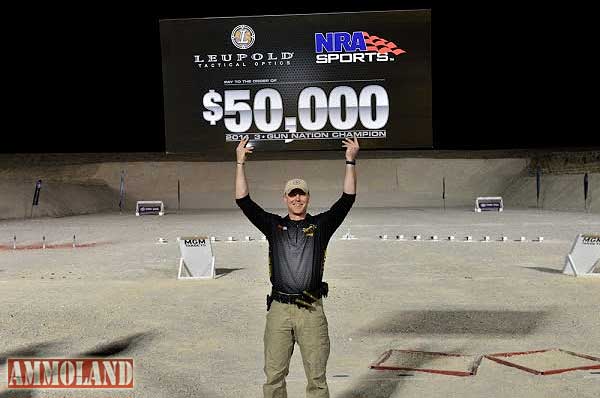 Tempe, Arizona. –-(Ammoland.com)-  Predator Tactical, an Arizona based custom firearms company owned by Matt Burkett, won it's third 3 Gun Nation Championship title in a row with Greg Jordan out shooting the incredible field of contestants at the 2014 Rumble at the Range!
3 Gun Nation holds an invite only Pro Tour championship series with 60 top shooters competiting for cash and prizes at events around the country. The series culminates in a top 30 championship shoot off that is held during the Shot Show in Las Vegas, NV.
A sell out crowd attended the shoot offs to see champions such as Keith Garcia (2013 Champion), Mark Hanish (2012 Champion), Tommy Thacker (2011 Champion), Daniel Horner (AMU), and Taran Butler (TTI) compete against each other using all three guns – rifle, pistol and shotgun to knock down steel targets and break clays.
The action is amazing and the stress level is palpable as the shooters duke it out for a top prize of $50,000!
Greg Jordan of Predator Tactical and NVT stunned the field with his shooting, dominating his way to the championship win!
Greg used a Scarab 9mm custom made for him by Predator Tactical.
Congratulations to Greg and best of luck on the 2014 3GN Pro-Tour!
For more information on the gun Greg used to win go to: www.PredatorTactical.com
For more information on the 3GN Pro Tour go to: http://www.3gunnation.com
Predator Tactical LLC provides innovative firearms, accessories, instructional videos, and professional firearms training throughout the world. Visit: www.predatortactical.com