MEET THE PUBLISHER OF SOLDIER OF FORTUNE ROBERT K. BROWN.
Boulder, CO – -(Ammoland.com)- Lt. Colonel Robert K. Brown, famed publisher of Soldier of Fortune Magazine, will be signing copies of his memoirs, I Am Soldier of Fortune: Dancing With Devils at locations around Las Vegas. ( http://tiny.cc/z20b0w )
He will make appearances at the following locations at the SHOT Show.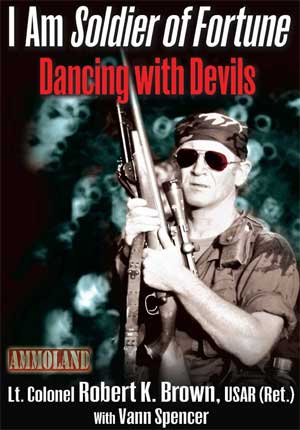 Blue Book Publications
14 Jan. 1-3:00
Booth #16258
Hi-Point Firearms
15 Jan. 1-3:00
Booth #16144
Kifaru International
16 Jan. 1-3:00
Booth #20652
Aimpoint
16 Jan. 3-5:00
Booth #14573
Gemtech
17 Jan. 1-3:00
Booth #20521
About Soldier of Fortune Magazine
SOLDIER OF FORTUNE focuses on news and adventure based on firsthand reports from all over the world. Our commitment to presenting the facts in their entirety sets us apart from mainstream news sources. Our editorial policy is pro-military, pro-strong U.S. defense, pro-police, and pro-veteran. We strongly support the right of the individual to keep and bear arms. By opposing tyranny of all kinds, we support the basic freedom of mankind. Visit: www.sofmag.com Click to Subscribe to Soldier of Fortune Magazine ( Subscribe on Amazon http://tiny.cc/11gy6w )