By Andy Lightbody; AmmoLand Auto Editor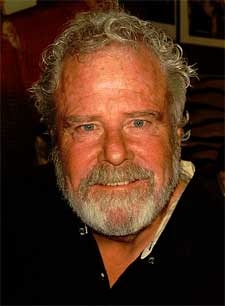 Grand Junction, Co. –-(Ammoland.com)-  It's been seven long years since Chevy and GM have freshened its lineup of full-size pickup trucks, and for 2014 the Chevrolet Silverado 1500 Z71 4WD LTZ CREW has very fresh, heavy-duty looks… while now sporting one of the longest names in our pickup truck dictionary!
Gone are softer and flowing sheet metal lines, only to be replaced by a more standup and chiseled look.
In truth, the Silverado looks like a work/outdoor truck, and that's a good thing. And yet on the flipside, these looks can be deceiving. And that's a good thing as well.
In addition to sporting that "rough and ready" exterior, the truck's interior and comfort appointments actually rival that of a luxury car with plenty of interior room, spaciousness and appointments in terms of fit-and-finish that are as fine as we've seen in those "high brow" cars. Take a look at the nearly $50,000 list price, and many pickup truck lovers are sure to gasp at the sticker shock. However, when you consider the number of crossover SUVs and luxury cars in the same price range, the Silverado is a lot of truck for the money and offers versatility for hauling your camping equipment, transporting big game trophies or towing upwards of a 9500 pound boat or trailer for your next outdoor adventure.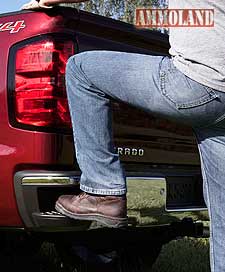 Walk around the Z71 LTZ crew cab (5'8" or 6'6" bed length) .and several features are sure to catch your attention. Wheel wells have been squared out and look for aggressive than the older rounded tire wells. On the 4WD tester, you can see the Bilstein shocks, and there is plenty of wheel/tire space and travel when bouncing around on the back roads and off road.
On the truck bed, Chevy has put in an integrated bumper step that makes it much easier to access gear while loading or unloading. In addition, they've added an internal tailgate dampening system that allows the big and heavy tailgate to be lowered without it slamming down. And finally, you'll find a unique bed lighting system with under-bedrail LED light strips! Way cool for unpacking all your gear in the dark!
Crawl your way into the crew cab, and you're going to be amazed at the interior room that awaits. Its spacious both front and rear. Seats up front are power, power everything and include heaters and cooling features. Power outlets abound and include 12V, USB, SD card, auxiliary audio input, and a 110 volt household outlet.
Under the massive hood, you get a choice of three power plant offerings– a small V6 (4.3 liter) , and two larger V8s (5.3 and 6.3 liters). The V6 and the smaller V8 are Flex Fuel compatible – regular unleaded or E85, while the big V8 is regular unleaded gasoline only. And yes, that means that all three engines work on regular unleaded, no higher priced premium gas needed. All feature GM's Ecotec3 technology, which is techno-babble for being direct fuel-injection, with cylinder deactivation and a variable valve timing system. In plain English…. When you reach your cruising speed and are under light engine-load demands, the V6 turns off 2-cylinders, and the V8s turn off 4-cylinders to increase fuel economy.
Truth? In our test truck with the 5.3 liter V8 that kicks out 355 horsepower and 383 lb-ft pounds of torque, it was virtually impossible to feel when the 4-cylinders kicked in or out at the higher freeway speeds.
All the engines are mated to a 6-speed automatic transmission that performs fairly well, however with so many other competitors offering the latest in 8-speed tranny technology, GM may want to re-think this offering somewhere down the line. The drive was acceptable when the truck bed was loaded, however when we hitched up a heavy-duty two-place snowmobile trailer loaded up with our "snowbs," ice-fishing huts, target shooting gear, ammo/gun cases and camping equipment (6,200 pounds), the truck's tranny was not near as smooth when negotiating the icy roads and unpaved trails.
The addition of the factory spray-in bed liner, integrated trailer-brake control and the back-up camera did make hauling and towing the big loads much easier.
Overall ride and handling characteristics of the truck, both on and off the road are exceptional. The steering is tight and responsive, with very little slack or over steer. At idle speeds and all the way up to 70 mph highway cruising, the Silverado is unbelievably quiet! Gone is the traditional engine noise and road rumble.
With the truck's cab re-engineered with an additional vertical pillar, as well as super sound-deadening insulation, it really is near a "whisper quiet cab."
Fuel economy is improved and is rated at 16 mpg city/22mpg highway with the 4WD package. Our combined totals were an honest 18mpg combined.
And best of all, they were fun miles on a new design that is sure to please the outdoor and sporting marketplace user.
About:
Andy Lightbody is a TV/Video producer and host, as well as an outdoor writer/photographer. Lightbody is the former Managing Editor for Western Outdoors Magazine; Senior Editor at Petersen's Hunting Magazine and Editor of the Guns & Ammo Book Division.
He remains an avid shooter, hunter and angler, as well as a regular contributor to the Sportsman's Warehouse publication-Sportsman's News Magazine. Visit Rocky Mountain Television/Productions : www.rmtv.net