By Andy Lightbody; AmmoLand Auto Editor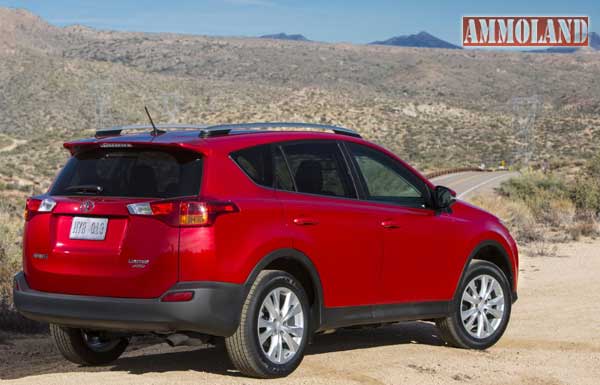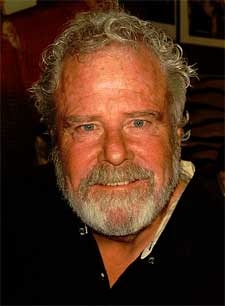 Grand Junction, Co. –-(Ammoland.com)-  At first glance, you just want to say, "It's kind of cute… what's it going to be when it grows up?"
With a wheelbase chassis of just over 104-inches and an overall length of around 180 inches, the Toyota RAV4 series is one of the smallest 4×4 crossover SUVs on the market today.
It is also the bestselling vehicle in this class.
In spite of these relatively compact dimensions, the RAV4s or Recreational Active Vehicle is a great choice for solo sportsmen or with a buddy for just about all outdoor adventures. Believe it or not, the RAV4s really make maximum utilization of "space available," and they are equally at home on the backcountry trails as they are on the road!
Redesigned for 2013, there's not a lot that's new for 2014. That however is not a bad thing, and with the RAV4 Limited and the XLE that we tested, Toyota added some key features that carryover and are good choices for the outdoors person.
Because dimensions are compressed, the RAV4 has a width of 72.6 inches, the front and rear track (tire-to-tire) is a relatively skinny 61.8 inches. This makes maneuvering both on and off the road quick, easy and snappy. While some of the larger SUVs feel like you are trying to travel trails and drive a USN aircraft carrier, the ill' RAV4 with its AWD (4×4), handles more like a jet-ski! Instead of having to drive down in the ruts on the back trails, the narrow track allows the driver to easily "high side" the ruts and off-road without all the bumps, thumps and bottoming out.
With a modest 6.3 inches of ground clearance, being able to avoid the deep trail ruts and riding on the high sides is recommended.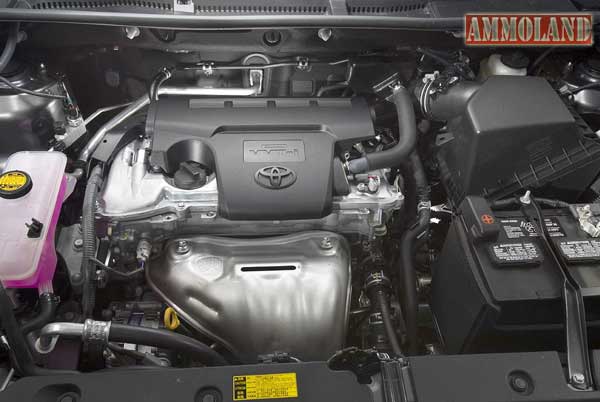 In the performance department, the RAV4 comes only with one engine and transmission offering—a 2.5 liter four cylinder that is mated to a six-speed automatic gear box. Gone with the redesign of last year is the optional V6 that made the small SUV much more of a rocket sled. Rated at 176 horsepower and 172 pd/ft of torque, the AW models are rated to deliver 22 mpg city/29mpg highway.
No real complaints with either the engine or tranny when we were trail blazing, but out on the highway, and driving aggressively, the transmission is smooth but feels slow in downshifting for those passing situations and when climbing mountain roads/highways.
Not feeling "top-heavy," the RAV4 is well mannered on the blacktop and at cruising speeds. Steering is tight, and comfortable, without a feeling of sloppy body roll when turning at higher speeds. Because of the angle/slope of the front hood, driver view of the road/trail ahead is excellent. Even at 65-80 mph high speeds, the entire cabin/passenger area is surprisingly quiet and road noise is minimal.
With the redesign, the RAV4 is about 2-inches shorter in overall length, but the interior volume is actually slightly greater. Seating for the driver and front seat passenger is very good and the dashboard controls are easy to view and use. Driver/passenger with the RAV4 Limited have dual climate control, 8-way power adjustable driver seat with a 4-way adjust for the passenger. Opt for the RAV4 XLE or Limited version and there is a backup camera, GPS navigation system and a decent sized touch screen display.
In the back 60/40 split bench seat, we found the comfort is hampered by being low mounted and angled. However, they do recline quite a bit and it's acceptable for short hops and kids. But as we said, the RAV4 shines for the outdoor fun, and is ideally designed for a driver and passenger. With the seats in the upright position, you've got 38.4 cubic feet of cargo room. Fold that seat down flat, and you've got a more cavernous 73.4 cubic feet of gun toting, camping crud and fishing fun gear capacity! With the top-end Limited model, there is a power lift gate that is even height-adjustable.
The mid-level LXE and Limited come standard with chromed, roof-mounted roof rails, so increasing our "top side" gear carrying capacity is easy with the addition of an after-market roof rack.
While some may feel that when it comes to AWD crossover SUVs that bigger is better and size matters, take a drive in a RAV4 and for future outdoor adventures, the little vehicle is anything but a toy.
It's a Toyota Recreational Active Vehicle!
About:
Andy Lightbody is a TV/Video producer and host, as well as an outdoor writer/photographer. Lightbody is the former Managing Editor for Western Outdoors Magazine; Senior Editor at Petersen's Hunting Magazine and Editor of the Guns & Ammo Book Division.
He remains an avid shooter, hunter and angler, as well as a regular contributor to the Sportsman's Warehouse publication-Sportsman's News Magazine. Visit Rocky Mountain Television/Productions : www.rmtv.net