How much innovation can you fit in I.C.E. Training's new personal defense holster? Maybe enough to save a life!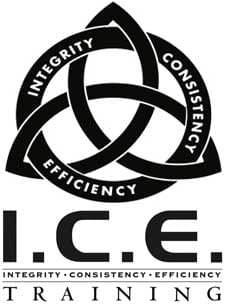 USA –-(Ammoland.com)- As someone licensed to carry a concealed firearm, with a ridiculous number of hours of handgun and shooting training over eight years of Marine Corps service and of course, concealed-carry training under my belt, I thought I was well-equipped for personal defense and survivability.
I was wrong.
I showed up to personal defense expert, Rob Pincus' two-day Combat Focus Shooting training with a soft-sided outside the waistband (OWB) holster complete with Velcro strap, my Glock 17 Generation 4 and 1,000 rounds of my personal favorite factory ammunition, Federal's American Eagle.
Just as quickly as I walked onto the pistol range, Rob Pincus himself escorted me back to the prep table. He didn't smile or say much at all. He simply un-holstered my handgun and asked me to remove my holster. As I removed my personal holster, he handed me a new I.C.E. Range and Carry (RAC) Kydex Holster and instructed me to put it on, re-holster and join the other students for the morning's training brief.
While I was familiar with molded holsters, including the one I owned for my standard-framed Glock 20 Gen 1, I was not a huge fan. In my experience many had clumsy releases I always fumbled with during drawing exercises. While I'll acknowledge that showing up with such a poor excuse for a training holster and having it changed out in front of the class was a bit embarrassing (no one has ever accused Rob Pincus of being shy) I later counted it as the most positive equipment change I could recall in all of my handgun training experience.
During my Combat Focus Shooting training, I fired over 850 rounds with an average of four shots per repetition. Crunching numbers revealed I rapidly drew and holstered my Glock 17 Gen 4 at least 200 times without a single glance down to my side. Doing so or fumbling would have resulted in compromising drills and losing sight of my targets, especially during wind-sprint and figure-eight drills.
My first observation of the I.C.E. RAC Kydex Holster is that while it hugged my Glock and kept it passively secure, there was no inhibiting release mechanism. The result was a seamless, lightning-quick draw every time; in fact, my draw was more efficient than ever before! The outer wall is also shorter allowing for quicker clearing out of the holster, although the trigger assembly and magazine release are still protected. Throughout over 200 drawing and holstering repetitions, the holster's passive grip design significantly improved vertical drawing and forward driving of my gun into a firing position.
I.C.E.'s RAC holster also integrates a higher sweat guard against my body and rolled-back upper edge from front to back, something I've never seen on competing models, although I'm sure others will attempt to emulate this innovative feature. The rolled upper edge, combined with raised sweat guard keeps the gun higher and closer to my body while creating a funnel to accept my handgun in a safer, more vertical and efficient manner; I don't have to fish for the opening like many holsters that may cause an unsafe habit of pointing the barrel towards my hip to avoid a collision with the holster's top edge. Tins innovative design allowed for seamless, efficient holstering as quickly as I could possibly holster my handgun. From the beginning, I had never holstered more efficiently than with the I.C.E. RAC holster. The fact still holds true today.
The I.C.E. RAC Kydex Holster ( http://tiny.cc/gbt4fx ) was easy to install on my belt with the molded belt loops and wide platform and with 80-percent of the gun's contour to the holster's exterior face, it was comfortable all day long. Considering the extreme drills and physical movement I encountered throughout Combat Focus Shooting training, I can't recall a single uncomfortable moment or instance of impeded mobility; at least, not from the holster although I'm sure I wasn't the only one taking a few Ibuprofin in the evening!
But, then again Rob Pincus doesn't pull any punches. Your joints might hurt but survivability… and Combat Focus Shooting bragging rights are worth it.
I also noted minimal protrusion of my Glock 17 from the bottom of the holster. This open design still protected my handgun in any position while allowing for variations in length. For example, I can carry a Glock 17 and Glock 19 in the same holster.
Since the moment Mr. Pincus asked me to put it on, it's been the only OWB holster I've carried. Simply put, while it's certainly not the most expensive OWB holster I've owned, I'm a huge fan. Of course, after two days with Rob Pincus, I would expect nothing less than near-perfect "awesomeness". His quest for perfection is about protecting what's most important – truth be told, it's not your handgun but this holster might disagree. Yes, it's that good.
MSRP for the I.C.E. RAC Kydex Holster is $59.99 and in my opinion is worth every penny.
To learn more about the I.C.E. RAC Kydex Holster and other great personal defense gear, visit the I.C.E. Firearm and Personal Defense Training Store at  http://icestore.us/.
To learn more about Rob Pincus' life-changing Combat Focus Shooting personal defense courses, visit www.CombatFocusShooting.com.