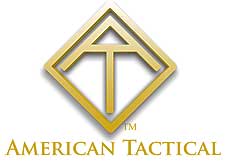 SUMMERVILLE, SC –-(Ammoland.com)- American Tactical is proud to announce the new patented Omni-Hybrid AR-15 Pistol chambered in 5.56 mm.
The new patented Omni-Hybrid Pistol design utilizes the Omni-Hybrid lower receiver; a fiberglass-composite polymer over a zinc metal insert.
Designed to give extra strength in the high-pressure sections, the Omni-Hybrid surpasses military pressure testing.
The new pistol comes complete with an Omni-Hybrid polymer lower receiver, 7" buffer tube,  7" free float quad rail, 7" barrel and weighs just 4.75lbs.
"The patented Omni-Hybrid  AR-15 pistol is the newest edition to the Omni-Hybrid line of products," says Joe Calabro, Director of Marketing for American Tactical. "We are making an AR Pistol product that is at a price point which will allow all black rifle enthusiasts the opportunity to own a quality product at an affordable price."
The patented Omni-Hybrid AR-15 Pistol has an MSRP of $599.95.
ATI is one of the nation's top importers and manufacturers of firearms and firearm related products. Having created a unique channel of distribution, ATI has quickly become a single-source provider for many manufacturers around the world. From quality and affordable imported firearms to specially designed American Tactical  US manufactured firearms, ATI continues to be a leader in the industry.
For more information and to see the full lineup of American Tactical products, please visit www.americantactical.us