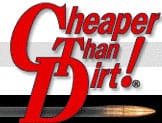 Fort Worth, Texas, USA –-(Ammoland.com)- Cheaper Than Dirt!'s newsletter—The Chronicle, and newly updated blog—The Shooter's Log, provide much of the best editorial in the outdoor industry—and it is all free!
Over 1.4 million opt-in subscribers receive The Chronicle on a weekly basis and over 1 million visitors enjoy the The Shooter's Log each month. In the coming weeks Cheaper Than Dirt will announce new additions to its stable of award-winning authors—a preview of just a few include David Codrea, Glen D. Zediker, Bryce M. Towsley and Robert Sadowski.
David Codrea – Long-time gun rights activist and grassroots leader, David Codrea has been writing professionally on the subject of the right to keep and bear arms since 1999, initially for GUNS & AMMO magazine, then moving on to HANDGUNS, and for the last eight years at GUNS, where he is a field editor producing the monthly "Rights Watch" column.
Codrea was named Gun Rights Defender of the Month in April, 2007 by the Citizens Committee for the Right to Keep and Bear Arms for persuading the Bush administration to strike "collective rights" language from the Federal Register in an FAA ruling. In 2011, he was named Journalist of the Year by the Second Amendment Foundation for his groundbreaking work exposing the "Fast and Furious" ATF "gun walking" scandal, and was a co-recipient of Soldier of Fortune Magazine's 2nd Amendment Freedom Fighter Award, and Jews for the Preservation of Firearms Ownership's David and Goliath Award for his work on that story.
Glen D. Zediker – A noted author, Glen Zediker's top selling books include The Competitive AR15 Builder's Guide, The Competitive AR15 Ultimate Technical Guide, Handloading for Competition, and Slings & Things.
Bryce M. Towsley – Field Editor for NRA's American Rifleman, American Hunter and Shooting Illustrated, Bryce Towsley's work appears in most of the firearms and hunting magazines currently published. He is the author of several hunting and gun books as well as the action and adventure novel, The 14th Reinstate. Towsley is a world-traveled hunter, a competitive shooter and gunsmith.
Robert Sadowski – Contributing editor for Gun Tests and SHOT Business magazines, Robert Sadowski is also a contributor to Gun Hunter, Combat Handguns, Guns & Weapons for Law Enforcement, and Tactical Weapons. He is the author of The Shooter's Bible – Guide to Combat Handguns and The Shooter's Bible – Guide to Firearms Assembly, Disassembly and Cleaning.
Cheaper Than Dirt! is the leader in guns, ammo, and shooting accessories. What you may not know is we offer great fishing, camping, and all types of outdoor gear for the trails as well as the water. Spend a day on the lake with must-have products like rods and reels from Daiwa, Shakespeare, Zebco, Penn, and Abu Garcia. Make your hiking more enjoyable with outdoor gear from Gerber, Texsport, Sabre, ThermaCell, and Adventure Medical. If your summer includes hitting the lake or pool, be sure to visit our Water Sports section for pool toys, boating equipment, and even water skis and wakeboards.
Everybody likes free stuff, and Cheaper Than Dirt! delivers. Over the next few weeks, Cheaper Than Dirt! will start giving away products you see featured in The Chronicle and The Shooter's Log—everything from guns and shooting accessories to survival and prepping products. No purchase necessary just be a current subscriber to our email.