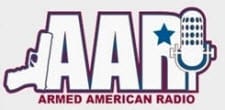 Atlanta, GA (AmmoLand.com) –Armed American Radio with Mark Walters brings author and filmmaker Dinesh D'Souza to the national radio broadcast this Sunday, 8-3-2014. Discussing the upcoming appearance, Mr. Walters said the following:
"While we face historic attacks against our second amendment freedoms during this age of Obama, it is safe to say that these attacks are but one part of a much larger assault against all of our freedoms.   No one has done a better job of exposing the president and his extremely dangerous progressive agenda than Mr. D'Souza. His books and films should be a wake-up call to all Americans who are concerned about their loss of liberties, regardless of political affiliation. I look forward to lending Armed American Radio's microphone to Mr. D'Souza this Sunday, 8-3-2014 as he continues to expose the progressive lies."
In addition to Mr. Dinesh D'Souza, Mark will welcome Mr. Tom Palmer, the winning lead plaintiff in the Palmer v. DC case that recently overturned Washington, DC's ban on carrying a firearm for personal defense.
Armed American Radio (AAR) is distributed nationwide by the Salem Radio Network and airs every Sunday in hundreds of cities from 8p-11p ET, 5p-8p PT.
For more information please visit www.armedamericanradio.com and www.srnonline.com.
About the USCCA:
TheU.S. Concealed Carry Association(USCCA) is the first and largest, member-owned association designed to educate, train, and insure responsibly armed Americans. USCCA members receive access to a wealth of industry information and insurance protection through its Self-Defense SHIELD program. The USCCA also provides expert advice, product information, and the latest news centered around the concealed carry lifestyle via email, social media, Concealed Carry Magazine, and their nationally syndicated radio program Armed American Radio.
The United States Concealed Carry Association is a subsidiary of Delta Defense, LLC. Delta Defense, LLC was founded in 2004 by Tim Schmidt and is committed to supporting and educating responsible Americans who carry concealed.