By Tom Claycomb
Knife writer, Tom Claycomb, lists his picks on what he says are the best self defense knives.
Idaho –-(Ammoland.com)- Let me start by making a statement. YOU DO NOT WANT TO GET INTO A KNIFE FIGHT!
In a good knife fight, no one wins. Many times you won't even know that you are cut, much less how bad.
The baddest guy that I know with a knife is the Pro-staff guy that helped design Browning's Black Label Tactical knives named Jared Wisong. Watch a video of him training below.
I've met him and talked to him a bit and he is a humble polite young man but if I have a .45 auto and he had a knife….I'd still tuck tail and run. He's bad.
Self Defense Knife Goals
First let's cover a couple of basic knife fighting goals. #1 to Win at all costs. Typically to win a knife fight, were both sides are some what equally armed, you have to either stab the bad guy in a vital or slice him enough until he bleeds out from numerous smaller cuts and you need to stay alive until he passes out.
In case you aren't that familiar with knives and wonder why that I am so scared of them let me give you a scenario. A Highway Patrolman told me that if your pistol is in the scabbard and a 16 year old doped up pimple faced kid has a knife and charges you, you're going to get cut before you can get your pistol out. You need to throw up the backside of your arm so he doesn't hit a vital.
In case you doubt this, some Sunday watch an NFL game. How far behind the line of scrimmage does the half backline up? Five yards, right? Which is 15 feet and yet he is at the line of scrimmage in a hot second. Right?
One time I heard of a guy who doubted that he couldn't cold cock someone before they killed him. The knife fighter got a piece of wood the size of a knife and rubbed chalk on the edge side. He simulated an attack and the other guy simulated hitting him. After it was over he said see, you didn't even get me. Really, go look in the mirror? The knife expert agreed that he had missed one cut. He had tried to slash the jugular, stab the heart and the femoral artery. He'd missed the femoral artery. In case you're not real familiar with bad cuts, a cut to the jugular or heart will bleed you out in seconds.
Self Defense Knives , How Sharp, How Strong, How Long?
So with the above said, a knife in the right hands (or wrong hands, VCA) is deadly. You'll want a super sharp knife. Just like with your broad heads you don't want to push blood vessels aside with a dull blade, you want to slice them.
You'll also want a hard steeled knife so the blade doesn't snap or chip if you hit a bone or miss and hit something else in the fight.
Most people prefer a blade not over 6-inches for close hand to hand fighting but you can also see how a longer blade is nice so you can keep a little distance as well as having a longer reach. But somewhere you want to stop short of a sword for concealment purposes.
Which brings up the next topic.
Self Defense Knife Concealment.
A lot of people like chest knives, boot knives or even ones that are like a necklace and hang behind you for self defense knives. Clip-on assisted opening fold-ups are nice due to easy access. How you pick a self defense knife is like picking gun holsters, you will have a box of them before you find the one that is right for you.
So with all the above said, here are my pick of a few formidable self defense knives. One size does not fit all. Determine your situation and buy accordingly. Buy the sized knife that you are comfortable handling.
Here are My Five Best Self Defense Knives in no particular order:

SOG Seal Pup Elite E37S Knife
Browning Black Label Spear G-10 Folder
SpyderCo Military Titanium C36TI Folding Knife
Browning Point Blank Leather Fixed Blade Knife
Puma Bowie 116396 Knife
SOG Seal Pup Elite E37S Knife: 
The E37S-K SEAL Pup Elite Straight-Edge Knife with black TiNi finish and Kydex sheath is SOG's new high-performance addition to the SEAL family of self defense products.
Sleek, attractive, and easy to operate, the E37S-K showcases SOG's sophisticated style and quality construction. Designed for use by Navy SEALs, the E37S-K features a thick steel stock (.185 inches), an AUS8 stainless steel heat-treated blade, a long ergonomic handle, deep finger grooves, and more.
BROWNING BLACK LABEL Spear G-10 Folder:
I believe this line may soon be obsolete so you'd better find one fast.
The heavy-duty utility folder is the must have, go-to tool of every tactical knife professional. Carried in your pocket, on your tactical vest, lashed to your web gear (or discreetly tucked away in your briefcase or purse) the utility folder is the one blade that gets a real workout, day in and night out.
SPYDERCO MILITARY TITANIUM C36TI Folding Knife:
This is a clip-on fold-up self defense knife for quick access.
No single Spyderco folder lends itself better to innovation and variation than the Military Model. Production launched in the 1990s lighting the fuse for Spyderco to produce a decade-long parade of different self defense knives renditions using upgraded blade steels, handle colors and materials.
Call it Spyderco's poster child for their commitment to C.Q.I. – Constant Quality Improvement, but the Millie is one of the most enduring designs ever produced. Next is the Ti-Millie. A traditional Military Model in every way, it has a titanium handle and a R.I.L. – Reeve Integral Lock.
Knifemaker Chris Reeve is lauded for modifying the classic original Walker LinerLock design. He morphed it so the handle scale acts as the lock's liner. With the back portion of the handle doubling as both handle spring and lock, there's no need for additional internal liners allowing the knife to be manufactured lighter, slimmer and stronger.
The ultra-light titanium handle is chamfered around the edges for comfort in-hand and the lock's liner is jimped ( the notches that are designed into the back lower part of the blade for better thumb control.) . Its CPM S30V PlainEdge flat'ground blade has an oversized blade hole supporting positive one-hand deployment, even while wearing gloves.
Choil and spine jimping generate tactical resistance keeping the knife from slipping forward or backward in the hand while sawing or making tough or aggressive cuts. Open handle construction makes maintenance and cleaning easier by allowing debris inside the handle to be flushed or blown out, ensuring reliable performance even in the dirtiest, harshest environments.
BROWNING Point Blank Leather Fixed Blade Knife:
The Point Blank Leather looks like it should be riding on the belt of a WWII Leatherneck who just stepped out of the pages of a history book.  This is an old school looking Marine knife. For many old timers this would be the go-to design for them.
A Traditional Classic is made modern. No self defense tactical knife collection would be complete without this tribute to the classic U.S. military utility blades of the past, their beefy clip point blades and hidden tangs are updated by using the most modern steels and molded modular polymer sheaths.
PUMA Bowie 116396 Knife:
I have to include a bowie knife in the list don't I? That'd be like not naming John Wayne in the list of famous cowboys wouldn't it? Bowie was one of the well-known knife fighters in his day and has had a ton of knives designed after his original model.
Since 1769, Puma has been hand crafting the finest sporting knives in the world. The Puma Original Bowie knife represents that heritage of high quality knife making tradition. Hand made in Germany, the six inch D1.4 German stainless steel blade and genuine stag horn handle combine to make a truly world class cutting tool. Each blade is Rockwell tested to a hardness of 57-59 for the perfect combination of strength and ease of sharpening. The handle is drilled to accept the included leather lanyard.
Self Defense Knife the Last Word
Let's sum up right fast what we've learned. The longer the blade, the greater your reach. But then you have to throw in the concealment factor, easy/fast access and dexterity issues. Different situations will demand different designs. Determine your situation and buy accordingly.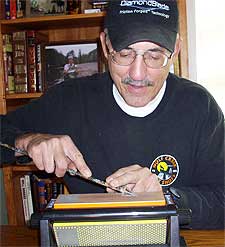 The popularity of tactical blades has soared the last few years. There is no way that I could cover the whole gamut in one short article but hopefully we've covered the basic popular designs.
For more on the realities of deciding to pick a fight with knife read, "Knife Fight Lies" by Marc "Animal" MacYoung at  www.nononsenseselfdefense.com/knifelies.html
Disagree with this article's knife picks, list yours below in the comments and see if others agree.
About Tom Claycomb
Tom Claycomb has been an avid hunter/fisherman throughout his life as well as an outdoors writer with outdoor columns in the magazine Hunt Alaska, Bass Pro Shops, Bowhunter.net and freelances for numerous magazines.
(To properly skin you animal you will need a sharp knife. I have an e-article on Amazon Kindle titled KNIFE SHARPENING  for $.99 if you're having trouble).
Some of the links on this page are affiliate links, meaning at no additional cost to you, Ammoland will earn a commission if you click through and make a purchase.