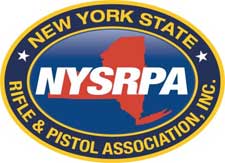 New York –-(Ammoland.com)- The New York State Rifle & Pistol Association Political Victory Fund endorses Joseph Stanzione for Greene County District Attorney.
Our endorsement is based upon his public opposition to the SAFE Act and respect for Second Amendment civil rights.
When making the endorsement New York State Rifle & Pistol Association (NYSRPA) President Tom King stated;
"Stanzione has decades of trail court experience."

"He understands that gun control and the so-called SAFE Act has absolutely nothing to do with public safety. We need to elect people like that to all levels of government."
NYSRPA encourages gun owners to support Stanzione's campaign on election day November 4th 2014.
About:
The New York State Rifle & Pistol Association is the state's largest and oldest firearms advocacy organization. Since 1871, our organization has been dedicated to the preservation of Second Amendment rights, firearm safety, education and training, and the shooting sports. Our membership consists of individuals and clubs throughout the state. We are a not-for-profit 501(c)4 organization and the official NRA-affiliated State Association in New York. Visit: www.nysrpa.org