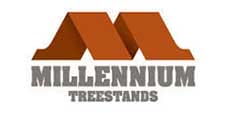 Pearl, MI -(Ammoland.com)- Millennium Outdoors, LLC (DBA Millennium Outdoors), a Mississippi based investment group announces that it has purchased the assets and brands of Outdoor Distributors – including Millennium Treestands, Ol'Man Treestands, Millennium Marine and The CLAW.
Millennium Outdoors recognizes that these brands are widely considered to be "the market leader" in hunting-related products. Millennium Outdoors is committed to forming one of the leading platforms in the outdoor industry and will be ideally positioned to meet customer demand.
Still based in Pearl, MS, the new investment group is fully committed to providing the capital necessary to develop and deliver products to meet the demands of increasing sales and distribution channels. Furthermore, the emphasis on comfort and safety as seen in Millennium and Ol'Man products will continue to be the primary focus of product development moving forward.
The new leadership includes individuals with a long and proven track record in the hunting industry. Jim Willard, former president of Bad Boy Buggies of Natchez, Mississippi, will act as Chief Operating Officer of Millennium Outdoors.
"We are absolutely thrilled to bring this transaction to fruition," said, Willard. "We are financially situated to continue to develop the best products AND deliver them to our customers with the very best customer service in the industry."
Bill Alexander, former president of Outdoor Distributors, has been retained to assist in the transition and will remain in a full time consulting role overseeing product quality and design. Bill formed Hunting Solutions USA in 1999, which later grew into Outdoor Distributors. Bill has revolutionized the treestand market through quality product innovation and design.
"We look forward to working together to grow and bring these brands to their full potential. We will continue our dedication in exceeding our customer expectations in product innovation, market leadership and world-class customer service." – Bill Alexander.
Millennium Outdoors LLC, designs, manufactures, and sells a range of innovative outdoor products through these leading brands: Millennium Treestands, Ol'Man Treestands, Millennium Marine and The Claw. Terms of the transaction were undisclosed.
About Millennium Outdoors, LLC
Millennium Treestands have long been recognized as the most quiet and comfortable stands on the market. Every angle, hinge and weld has been tested under the most extreme conditions by the most cynical and scrutinizing hunters.