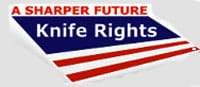 NYC , New York –-(Ammoland.com)- New York City's The Village Voice newspaper has published a front-page article, "Blade Stunner," slamming the City's persecution of knife owners.
Journalist Jon Campbell's in-depth research provides an informative historical perspective. Following the travails of some citizens caught up in this absurd enforcement, his gripping narrative also personalizes the unfortunate and serious impact the City's irrational and unconstitutional enforcement has had on citizens arrested and prosecuted for simply carrying a common folding knife.
One of the most shocking revelations in this article confirms Knife Rights' longstanding position that tens of thousands of citizens have been victimized by the City's outrageous enforcement practices. In the first estimate by an independent organization it reports that, "Village Voice analysis of data from several sources suggests there have been as many as 60,000 gravity-knife prosecutions over the past decade, and that the rate has more than doubled in that time. If those estimates are correct, it's enough to place gravity-knife offenses among the top 10 most prosecuted crimes in New York City."
Click here to read the complete "Blade Stunner" article.
Author Jon Campbell also has a short and somewhat humorous, if pointed, companion piece, which makes good reading as well, "On Switchblades, 'Cheap Dime Store Hoods' and That Wet End, Lachance"
While the Blade Stunner article notes that the unjust enforcement of the '50s-era New York knife law has landed thousands in jail and "brought Right and Left together" opposing it, the article also details why legislative solutions have gone nowhere. Unfortunately, Knife Rights' Federal civil rights lawsuit seems like the only solution in the near term, absent some change of heart in Albany.
Knife Rights' fight to stop the persecution of knife owners in New York City and to prevent this from spreading to other cities will continue.  Click here to read the latest news on Knife Rights' Federal civil rights lawsuit against New York City and District Attorney Cyrus Vance, Jr.
Please support this lawsuit with a tax-deductible charitable contribution to the Knife Rights Foundation
WARNING: New York City has interpreted the state law against gravity knives such that if an officer can "wrist flick" the knife blade open, or alleges that the knife might be able to be opened in such a manner, and the knife blade locks open, that knife is an illegal gravity knife. NYC takes this position even if it requires multiple tries and use of exaggerated arm thrust or motion. Using this interpretation, most any lockblade knife might be deemed an illegal gravity knife.
Note also that New York City administrative code has an under-4-inch length limit and requires knives be carried concealed. Knife Rights recommends that you never carry your knife clipped to your pocket in New York City. Even when covered by a jacket, simply moving the jacket aside to get to a wallet has been enough to get folks arrested. Always ensure your knife is completely concealed at all times, including not "printing" on the outside of your clothing. In addition, be extremely circumspect about using a knife for any purpose in a public setting.
About:
Knife Rights (www.KnifeRights.org) is America's Grassroots Knife Owners Organization, working towards a Sharper Future for all knife owners. Knife Rights is dedicated to providing knife owners an effective voice in public policy. Become a Knife Rights member and make a contribution to support the fight for your knife rights. Visit www.kniferights.org