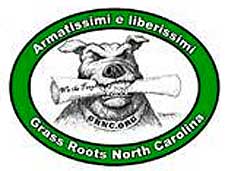 North Carolina –-(Ammoland.com)-The Bloomberg-funded anti-freedom organization Moms Demand Action (MDA) has apparently given up attacking Kroger, and is now trying its luck with the Harris Teeter chain.
The Charlotte Observer reports that representatives (apparently three Bloomberg-paid staffers) delivered a petition to the grocery retailer's Matthews headquarters Thursday.
Despite Repeated Failure Bloomberg's Cash is Dangerous
MDA has now attacked Chipotle, Kroger, Panera, Sonic, Staples, Starbucks and Target. In each case they have failed to harass retailers into posting against carry. However, in some cases they have bullied retailers into making non-binding requests that customers avoid carrying in their businesses.
Kroger, the parent company of Harris Teeter that has over 100 stores in NC, has completely resisted MDA demands to enact bans. Hopefully Harris Teeter will follow the lead of their parent company in choosing to follow state and local laws regarding carry. Indications are that this will be the case.
Although feckless anti-gun Moms have repeatedly failed in their mission to use retailers to enact de facto gun bans, Bloomberg's deep pockets, combined with hostility toward Second Amendment rights, makes it likely these attacks will continue.
We must be equally committed to repelling them. Each and every time MDA Moms demand a new gun ban, we must respond in defense of fundamental liberty, and in support of those who respect our rights.
IMMEDIATE ACTION REQUIRED!
We need to thank Harris Teeter for supporting our gun rights.
Thank Harris Teeter from their website HERE. Or go to: https://www.harristeeter.com/other/contact_us/contact_us_email.aspx
Tweet about Harris Teeter: Thank you @HarrisTeeter for respecting customer gun rights @GunsSaveLives
Lies Told by Moms Demanding Action
Click here to learn the full details of the deceptions spread by the so-called Moms Demanding Action (or rather Moms Demanding Gun Bans).
About:Grass Roots North Carolina is an all-volunteer organization dedicated to preserving the freedoms guaranteed us by the Bill of Rights. Our main focus is the right to keep and bear arms. GRNC was central to drafting and passing North Carolina's concealed handgun law and since that time has continued to push for improvements to gun laws. Visit:www.grnc.org