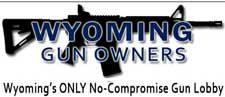 Wyoming –-(Ammoland.com)- One starts to wonder why Campbell county, WY, produces so many anti-gun politicians. Is there something in the water?
The reality is this: Campbell County is an fine example of how the anti-gun politicians operate,
and how these same politicians and lobbyists work together to advance evil.
Being there at ground zero is how we know just who the gun grabbers are.
And you can also measure the effectiveness of our grassroots efforts in the way the anti-gun politicians personally react when they are exposed — in the act of crushing freedom.
Following are some examples from Gillette.
…They'll shake a finger in your face
In 2011 the former Gillette Mayor Tom Murphy (Republican) shook his finger in my face inside the walls of city hall while he was in full contempt of the Second Amendment. WyGO was there to stop gun free zone expansion proposed by the Mayor. It was a day of victory when Mayor Murphy finally resigned in 2013.
…They'll join forces
Last year we exposed the Gillette police department's keystroke gun registration scheme. And in turn the political operatives joined together in a public press conference in an attempt to shroud the truth.
The current (and soon to be retired) Speaker of the House Tom Lubnau of Gillette, actually held a press conference standing next to Mayor Murphy and the Gun Registry Police Chief, Jim Hloucal.
Point and laugh: Their public cry only further exposed Gillette's political ring and the ties to Millions in public funds raised by the anti-gun Wyoming police lobby based in Campbell County. It was no surprise that Gillette Police Chief Jim Hloucal was a high ranking officer (Vice President) of this anti-gun lobby organization calling themselves the WY Association of Sheriffs and Chiefs of Police (WASCOP).
Byron Oedekoven a former Campbell County Sheriff — is the director of WASCOP's multi-million dollar operation that regularly lobbies against gun rights. Oedekoven held office prior to Sheriff Bill Pownall — who just last week turned in his resignation before he was to be removed from office for malfeasance.
…They'll continually deny the truth by running away from their own voting record
In the recent election cycle, Tom Lubnau (Republican) Speaker of the House came to the rescue of a known gun grabbing candidate — Democrat House Representative Mary Throne.
Directly in response to WyGO's mailing that exposed Mary Throne's bad voting record, Lubnau said, that he was tired of "this guy" (me), "raising money" on what he called "lies."
Lubnau defended Mary Throne, saying she was from Gillette and that "she was a rancher" and that "she grew up with guns." Lubnau a lawyer used trickery and a sleight of hand, Lubnau steered clear of the facts about Thrones voting record.
Lubnau himself believes that politician's votes should be hidden from their constituents. In fact, in 2013 Lubnau favoring a voice vote only, spoke against other lawmakers calling for recorded votes on the floor of house.
The famous Gandi quote tells the 'reality' of politics: "First they ignore you, then they ridicule you, then they fight you, and then you win."
And this also points to where we are right now.
Politicians that stand behind cover from the likes of Tom Lubnau are looking for one thing only — to stop the effectiveness of WyGO's grassroots efforts.
Their Modus Operandi is to say 'anything' that may divide us. But this is why we do what we do…to watch every move these turncoat politicians take.
And that brings me to the good news…
The part that politicians hate the most. WyGO's aggressive year-round grassroots activism.
It is very likely that the following image dances in the heads of anti-gun politicians, while lying awake at night. Don't you love it?
And finally with Thanksgiving upon us…
Join me with thanks to the financial supporters who help make the anti-gun politicians have sleepless nights, and hopefully a few nightmares too.
For Liberty,
Anthony Bouchard
Executive Director
Wyoming Gun Owners
About:
Wyoming Gun Owners is a nonprofit, nonpartisan, single-purpose citizens' organization dedicated to preserving and protecting the Right to Keep and Bear Arms as guaranteed by Article 1 Section 24 of the Wyoming Constitution and the Second Amendment of the U.S. Constitution.
Wyoming Gun Owners is the only organization taking action at this level–with an aggressive program designed to mobilize public support for pro-gun legislation as well as opposition to gun control. www.wyominggunowners.org