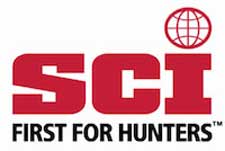 USA – -(Ammoland.com)-  Whether it's fighting the fierce fish of the Amazon, planning your first African safari, or getting the most out of your long-range rifle scope, the 2015 SCI Hunters' Convention has a number of entertaining and educational seminars to help you track down the information you need.
Our hunting heritage is under attack like never before with the anti-hunting crowd making inroads through the ballot box, as well as infiltrating game and fish departments. Outdoor writer Michael Sabbeth will help attendees understand how to respond with effective counter arguments that support our rights to hunt in his seminar "How Can You Kill Those Beautiful Animals? Words and Stories We Must Speak to Preserve Hunting." John Nores will present "War in the Woods with Marijuana Cartels," an in-depth look at how fish and wildlife officers, through the formation of a Special Operations Marijuana Enforcement Team, are fighting to protect the public as well as wildlife and habitat from this increased threat.
Moderator Craig Boddington will once again lead a blue ribbon panel discussion to assist attendees in planning their first African safari. Now in its 24th year, this is SCI's longest running and most popular seminar. Craig will also present "Hope for Africa Hunting." With partial closures in Botswana and Zambia and increased ivory bans in Tanzania and Zimbabwe, there is a lot of negativity surrounding African hunting. Craig will present an historical perspective of past closures and bans while pointing out the increased opportunities available to today's sportsman with more countries open than ever before, as well as some of the most affordable hunts ever.
Experienced Amazon guide Paul Reiss will lead participants through an insightful description of the fishes of the Amazon and the exciting angling opportunities that await travelers to the region.
Other seminars include wingshooting instruction with Gil and Vicki Ash, "Accommodating the Novice Female Hunter" with Deb Ferns, "The Long-Range Rifle Scope" with Aaron Davidson, "Avoiding or Treating Emergencies in the Wilderness" with Bill Mealer and a host of others well worth attending.
For a complete list of seminar highlights, visit the seminar section of the convention web site at http://www.showsci.org/seminars/.
The 2015 Convention runs from February 4-7 at the Mandalay Bay Resort & Convention Center in Las Vegas, Nevada. Pre-registration discounts are available now!
For more information, to join or register, visit www.showsci.org or call 1-888-746-9724.
About the SCI Hunters' Convention: Safari Club expects upwards of 24,000 international hunters to visit Las Vegas, Nevada, February 4-7, 2015. The SCI Hunters' Convention represents the largest and most successful event to raise money for advocacy to protect hunters' rights. The 2015 Hunters' Convention will be the largest in the organization's history with nearly a million square feet of exhibits and 2,500 vendors.
Becoming an SCI Member: Joining Safari Club International is the best way to be an advocate for continuing our hunting heritage and supporting worldwide sustainable use conservation, wildlife education and humanitarian services. JOIN NOW:  http://member.scifirstforhunters.org/join/
Safari Club International – First For Hunters is the leader in protecting the freedom to hunt and in promoting wildlife conservation worldwide. SCI has approximately 200 Chapters worldwide and its members represent all 50 of the United States as well as 106 other countries. SCI's proactive leadership in a host of cooperative wildlife conservation, outdoor education and humanitarian programs, with the SCI Foundation and other conservation groups, research institutions and government agencies, empowers sportsmen to be contributing community members and participants in sound wildlife management and conservation. Visit the home page www.safariclub.org or call 520-620-1220 for more information