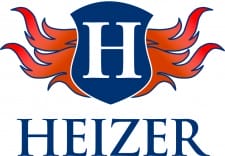 Pevely, Missouri – -(Ammoland.com)- Heizer Defense is excited to announce the shipping of the new PAR1 "Pocket AR Pistol" in .223. The pistol is the next caliber offering in the Heizer Defense Pocket Pistol Family.
The Pocket Pistol Family currently consists of the PS1 "Pocket Shotgun", chambered in 45LC/410 & the PAR1 "Pocket AR", chambered in .223, and the Hedy Jane Empowered line, geared for women.
The pistols are multi-caliber with interchangeable barrels. Accessory barrels and a number of new caliber offerings will be launched throughout 2015.
Eric Polkis, Director of Sales at Heizer Defense noted "The PAR1 Pocket AR Pistol has had an unbelievable response from the industry; as well as from consumers. We have a small IPhone-sized pistol chambered in .223, it is a fun gun to shoot and there is simply nothing like it on the market."

Tom Heizer, a Principal of Heizer Defense commented "The PS1 has been well-received and we have a strong response for the PAR1 as well. We are adding capacity to keep up with the overwhelming consumer demand and will launch another new revolutionary pistol at the upcoming SHOT Show. We already have orders for this product and expect a great rollout."
Heizer Defense Pocket Pistols are proudly distributed by its partners AcuSport, AmChar Wholesale, Big Rock Sports, Bill Hick's, Sports South, and Zanders Sporting Goods.
For more information on the Heizer Defense products, visit www.heizerdefense.com
Heizer Defense is a state-of-the-art, high technology Firearm Company based in Pevely, Missouri, a suburb of St. Louis.
Heizer Defense is an affiliated company of Heizer Aerospace. Founded in 1962, it manufactures fracture critical components for aerospace companies, NASA and the military.
Heizer Defense Engineers apply the same military technology to create high quality firearms.