By Glen Wunderlich
Lansing, Michigan – -(Ammoland.com)-  With a couple of whitetail deer neatly vacuumed packaged and stacked in the freezer, courtesy of my big-bore pistol, thoughts have turned to deer hunting with friends as cameraman.
Back in the 80s, doing so meant shoulder-resting a VHS camera with tubes, recording tape, and single batteries larger and heavier than an entire digital movie camera today.
The advantages of technological achievements continue to astound in ways never dreamed of just a few short memories ago.
With an Arizona coyote hunt already in the works for early 2015, traveling light with one special-purpose firearm would simplify life. The trouble is, however, the highly polished barrel and glossy wood stock on the varmint rig makes no sense. The wise varmint hunter wraps himself head to toe in camouflage. Yet, if his rifle is as conspicuous as high heels in a hayfield, it'll be just as useless.
The answer to the dilemma was another modern marvel of
The generously supplied kits of pre-cut material provide the versatility of matching a firearm to given hunting conditions. Certainly, other options exist such as expensive factory dipping or even do-it-yourself painting projects. But, even if these methods turn out well, who wants to transform brilliant factory bluing and stock finishing to permanent status that may degrade value? However, if you have a beat up, old gun, you can turn it into a thing of beauty easily.
Gun skins also provide a means to change patterns according to terrain and intended use – all in the comfort of your home at a fraction of the time and cost. Simple tools such as a hair dryer or heat gun and common cutting tools are all that are required. The website www.mossyoakgraphics.com provides a link to how it's all done and there's even a help hotline telephone service available.
Mossy Oak Graphics was the first in the industry to use 3M Premium Cast Vinyl, which offers a highly durable, conformable material perfect for curved and flat surfaces alike. This process allows cast vinyl to be heated and stretched to conform to curved surfaces and prevents the material from cracking, peeling or shrinking back to its original form. And, if you make a mistake, you can peel it back and retry over and over until you are satisfied with the result.
There is no sticky residue to damage expensive gun finishes and the material actually protects surfaces. It's also guaranteed not to fade for a period of five years. For less than $10 a scope kit is available, as well, to make your game getter completely camouflaged. Winter camouflage patterns are available, as well as over a dozen other options.
I've been there and done the camo paint jobs. And, as proud as I was with the finished product, it doesn't compare to the built in versatility and the genius of wrapping.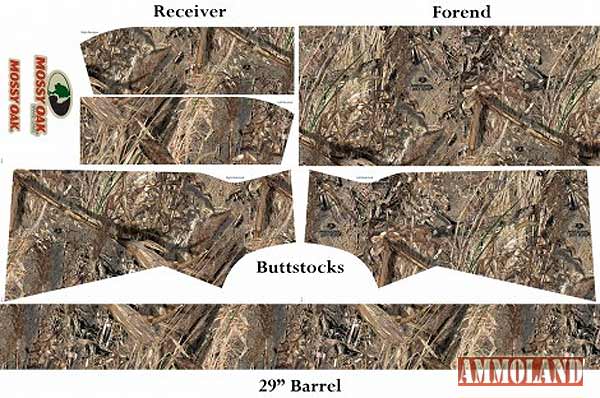 About Glen Wunderlich Charter Member Professional Outdoor Media Association (POMA). Outdoor writer and columnist for The Argus-Press (www.argus-press.com) and blog site at www.thinkingafield.org  Member National Rifle Association (NRA), Michigan United Conservation Clubs (MUCC), member U.S. Sportsmen's Alliance (USSA), Quality Deer Management Association (QDMA), Commemorative Bucks of Michigan (CBM).