USA – -(Ammoland.com)- We all know bullet proof vests are essential for safe shooting, but do you wear it as often as you should?
Armor saves lives in many various situations, from law-enforcement operations to target practice.
To help highlight just how vital vests are, we've compiled a selection of amazing true-life stories based around lives saved by armor. Each case is a stark reminder to all gun-enthusiasts: always wear the right vest for the ammunition you expect to face.
Soldier Receives the Vest that Saved his Life
In April 2014, Sgt. Timothy Gilboe was presented with the bulletproof vest which saved his life, at a ceremony held in the Veterans of Foreign Wars Post in his native Maine. While on duty in Afghanistan, Gilboe was shot at point-blank range – but the bullet struck the bottom edge of his ballistic plate.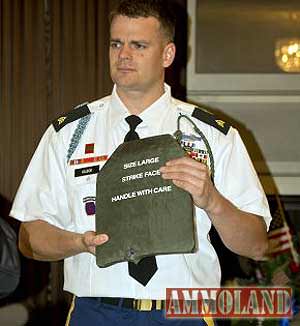 The incident occurred while he and his platoon patrolled close to the village of Awalata, when they were attacked by insurgents. As they made their way through the village (to perform a battle-damage assessment), insurgents launched a further attack, during which Gilboe's Staff Sergeant – Matthew Hermanson – was mortally wounded.
Gilboe charged an attacking insurgent, and grabbed the man's AK-47 barrel, forcing the muzzle against his ballistic plate – when the insurgent fired, Gilboe had the wind knocked out of him and his leg sprayed with shrapnel, but was still able to best the enemy in hand-to-hand combat, before a fellow soldier shot him dead. Had the vest been too small for Gilboe, he may have estimated a 'safe' shooting-spot incorrectly, and placed himself at fatal risk. Always make sure you have the right size.
Ohio Police Officer Survives Gunshot from Suspect
Patrolman Justin Conley, from Mount Orab, Ohio, embarked on a nationwide campaign promoting the importance of bulletproof vests after he survived a gunshot. Conley began his shift as he always does: he donned his uniform, his ballistic vest, and drove to his station just outside of Cincinnati, little knowing that the armor would save his life and allow him to return home to his family later that day.
When he encountered an aggressive customer inside of a McDonalds restaurant, Conley warned the man to leave, with a sober driver, only to see him driving minutes later. Conley duly arrested the man on a DUI charge, yet, as Conley finished his shift hours later, this same man ambushed him after waiting, hidden, behind a trash can, armed with a gun.
He fired upon Conley, but the bullet struck him in the back. Luckily, the vest offered enough protection to save Conley's life, and he knows that, had he complacently expected no serious danger on that particular shift, he may well have been killed.
He commented: "Don't ever think 'it's not going to happen to me', because you get into that mindset and one day you might be here, one day you might not."
British Soldier's Bulletproof Vest Allows Him to 'Shrug Off' Impact
Daniel Griffiths, from 1st The Queen's Dragoon Guards (QDG) survived an extreme encounter with insurgents while working just outside the Nad 'Ali district – this area of Helmand Province is known as a 'safe haven' for members of the Taliban, and was targeted in Operation Eagle's Shadow. 23-year-old Griffiths, from Wrexham, Wales, was trying to locate an insurgent firing-spot when his patrol began taking gunfire from attackers armed with AK-47 rifles; as he moved to target the assailants, another group opened fire – leaving Griffiths and two fellow soldiers pinned.
He was struck by a bullet, right in the center of his ballistic plate, as he tried to reach cover.
After receiving the all-clear, Griffiths was able to continue with patrol: he simply swapped his damaged plate for a fresh one (always vital), and carried on with his operations. Later on, he encountered more gunfire, but was able to capture an insurgent after wounding him. Had he worn armor without a ballistic plate, or chosen to use a vest which had already taken damage, he might not have been so lucky.
Houston Police Officer's Armor Prevents Fatal Gunshot Wound
When Officer John Calhoun and a fellow officer were called to investigate a suspicious armed man in north Houston, they both wore bulletproof vests. This decision saved Calhoun's life.
The two officers located the man, and tried to detain him. However, he abruptly opened fire following an altercation: during the ensuing gunfight, both Calhoun and the suspect were struck. While the suspect died from his injuries, Officer Calhoun survived – the bullet hit his left side, an area covered by his bulletproof vest.
HDP Chief Charles McClelland commented: "His life was saved by his ballistic Kevlar. He's certainly going to be sore, but no rib fractures, no bullet fractures."
Each of these stories highlights just how important wearing bullet proof vests is when using guns yourself, or expecting to be fired upon. Whether you're at a shooting range, checking your home-defense weapons' performance, or working in the police or armed forces, ensuring you're properly equipped is essential to stay as safe as you can.
As Patrolman Conley warned, never become complacent – always be prepared.
About SafeGuardArmor.com
Leading body armor manufacturers and premium body armor designers www.safeguardarmor.com & www.safeguardclothing.com has been established online for about 7 years. They specialize in combining soft Kevlar armor with hard armor plates to their carrier designs.