Take Aim and Find the Mark of Protection for Your Traditional Takedown Archery Gear with Plano's New Protector Bow-Max Recurve Case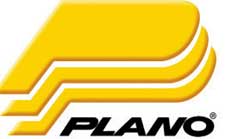 Plano, IL -(Ammoland.com)- Helping sportsmen keep their valuable gear organized and protected for over 60 years, Plano announces their signature brand of protection for recurve bows with the 2015 Archery Trade Association (ATA) Show debut of the new Plano Protector Bow-Max Recurve Bow Case.
Pleasantly affordable and highly practical, the Protector Bow Max Recurve Bow Case combines a plush and functional interior with a rugged and durable locking exterior to provide Plano-grade protection for the safe storage and transport of any takedown recurve bow. Inside, riser, limbs and accessories are securely cradled in high-density foam.
Once closed, thick-walled construction and Plano's patented PillarLock system provide superior crush-resistant strength and stand as a bulwark against all threats of damage during air, land or sea transport. Heavy-duty latches, molded-in handles and integral padlock tabs provide additional protection and utility.
Plano Model 113500 Protector Bow-Max Recurve Bow Case
Thick-walled construction
Heavy-duty Latches
Patented PillarLock System
High-density foam interior
Airline approved
Dimensions: 36″ x 4″ x 10.75″
MSRP: $39.99
Traditional archers take great pride in the beauty and simplicity of their equipment, which – along with their instincts – they rely upon to find their mark on targets or game. Trust those instincts. Trust Plano. Let that arrow fly.
Anchor beautifully simple and effective protection for your traditional takedown bow with the new Protector Bow Max Recurve Bow Case.
About Plano Hunting
Innovation and quality are the traits that have become associated with the Plano brand. Thousands of hunters and shooters have come to trust Plano for the storage of their firearms, bows and hunting accessories. Since 1952 Plano has been supplying outdoor enthusiast with storage solutions that allow them to make the most of the time they have outdoors.