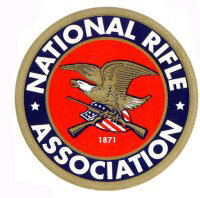 FAIRFAX, Va. –-(Ammoland.com)- The National Rifle Association is now accepting applications for its annual competitive shooting camps for junior shooters.
These camps, run  by the Coach Education Program, help young shooters aged 12-21 develop their marksmanship skills from casual to competitive through challenging and rewarding lessons.
"These camps have everything you need to take your game to the next level," said NRA National Coach Trainer Daniel Subia.

"Each day will be filled with exercises designed to help you master your body positioning, breath, and trigger control to consistently shoot high scores. You'll be tired at the end of each day, but you'll also leave a better shooter than you were before."
Intermediate Junior Pistol Camp:  June 26 – June 28
Held in Canton, Ohio, this camp is for beginning and intermediate shooters and is limited to 25 students. The camp registration deadline is June 1.
Intermediate Junior Rifle Camp: July 5 – July 10
Located in Camp Perry, Ohio's Petraca Range, this camp features two admission periods for its 60 slots. The first admission period, open March 11 – April 30 is for junior shooters who have previously participated in an NRA Junior 3P or 4P Smallbore sectional match. The Second admission, open May 1, is open to all shooters.
Junior Advanced Competitive Smallbore Rifle Camp: July 6 – July 14
Held in Jericho, Vermont, the camp is a demanding training opportunity for advanced athletes and is limited to 20 students. The camp registration deadline is May 1.
To learn more about these camps and download the application package, visit http://coaches.nra.org/national-junior-shooting-camps.aspx. Questions? Contact National Coach Trainer Daniel Subia at [email protected]
About the National Rifle Association
Established in 1871, the National Rifle Association is America's oldest civil rights and sportsmen's group. Five million members strong, NRA continues its mission to uphold Second Amendment rights and is the leader in firearm education and training for law-abiding gun owners, law enforcement and the military. Visit http://nra.org.