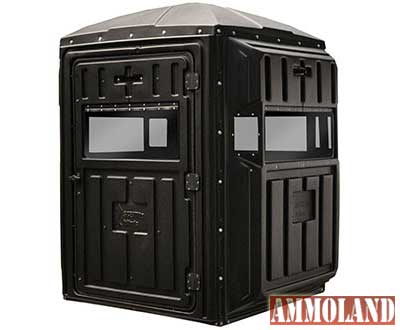 Raleigh, NC -(AmmoLand.com)- A ready-to-hunt blind made of heavy-duty polyethylene that can be utilized as an elevated stand or a ground blind, the Whitetail Blind from Advantage is a perfect combination of features and price.
The Whitetail Blind is a more economical version of the very popular Deluxe Blind made by Advantage, with many of the same great features that hunters love.
The Whitetail comes available with a choice of either an outside hinged locking door or a trapdoor for entry and exit through the floor. The large, hinged Polycarbonate windows flip up and out of your way, which makes the Advantage Hunting Blind a great option for gun or bow hunting while providing concealment with a 360-degree view. When the windows are flipped up and out of the way, they can be locked into place with a nylon cord and spring clip. The Whitetail Blind is black on the outside and inside, which also helps to keep a hunter hidden and concealed inside.
With a Whitetail Hunting Blind, you have the option of hunting from the ground or elevated, with a full-size walk-in door for the ground and a trap door for when it's elevated. The blind is lightweight and virtually maintenance free, featuring a ¾-inch pressure-treated plywood floor that is carpeted. The Whitetail Blind is available in two- and four-person designs.
The Whitetail features a through-bolt design with interlocking corners. The blind is completely weather and bug resistant. All Advantage Hunting Blinds are built with heavy-duty polyethylene shells and are designed to last. The engineers behind each blind from Advantage Hunting understand that features are very important, but durability is a key.
The Whitetail offers the best features and the durability to last many hunting seasons, and all of that comes at an economical price.
To learn more about Advantage Hunting Blinds, please visit www.advantagehunting.com.
About Advantage Hunting
Advantage Hunting Blinds are the leaders in rigid, portable, lightweight, scent-proof blinds. Our blinds are so technologically advanced in function and design that you can enjoy hunting more successfully and comfortably with less maintenance.
For more information, please visit www.AdvantageHunting.com.