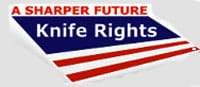 Gilbert, AZ –-(Ammoland.com)- Texas State Representative John Frullo (R-Lubbock) is the recipient of Knife Rights' 2015 Freedom's Edge Award, which was presented on June 6 at the Knife Rights Sharper Future Awards Breakfast held in Atlanta during the 34th annual BLADE Show.
Each year, Knife Rights presents the Freedom's Edge Award to a local, state, or national elected representative who, through leadership in the fight to protect or enhance knife rights, demonstrated his or her commitment to a Sharper Future.
Representative Frullo received the honor for authoring Texas House Bill 905, Knife Rights' Knife Law Preemption bill, which was passed last month by the Texas Legislature and, pending the approval of Governor Greg Abbott, will take effect September 1, 2015.
Once enacted into law, HB 905 will prohibit a city or county from passing or enforcing knife laws more restrictive than state law, thereby eliminating the current patchwork of laws that act as a legal minefield for anyone carrying a knife in the Lone Star State. HB 905 simplifies the law for both travelers and law enforcement, ensuring that a single, easily understood knife law applies statewide.
HB 905 will ensure that someone traveling through Texas does not encounter contradictory knife laws. For example, under the current system, some common pocketknives are legal in San Antonio but illegal in Corpus Christi, whereas others are legal in Corpus Christi but illegal in San Antonio. Both San Antonio and Corpus Christi made Knife Rights' 2014 list of "The 10 Worst Anti-Knife Cities in America" (San Antonio at #4 and Corpus Christi at #9).
Knife Rights Chairman Doug Ritter said, "Representative Frullo's efforts on behalf of knife owners ensure that millions of Texans will enjoy greater freedom and uniformity in the law. His dedication and hard work in passing HB 905 during a very difficult legislative session are a testament to his commitment to the Constitution and his very effective representation of his constituents. We were honored to have Representative Frullo as our bill's author."

Representative Frullo said, "I'm honored Knife Rights selected me for this prestigious award. It was my pleasure to work alongside [Knife Rights Director of Legislative Affairs] Todd Rathner and the Knife Rights organization to pass a strong preemption law. Knife owners and users will no longer be subject to a confusing patchwork of local laws in Texas."

Rep. Fullo added, "This bill protects the liberty and freedom of Texas knife owners, and I'm grateful we were able to take steps to protect our knife rights and correct this issue."
ABOUT KNIFE RIGHTS
Knife Rights (www.KnifeRights.org) is America's grassroots knife owners organization, forging a Sharper Future for all Americans. Since 2010 Knife Rights has passed legislation eliminating knife restrictions in 13 states. Knife Rights is also lead plaintiff in a federal civil rights lawsuit against New York City over their persecution of over 60,000 knife owners.
Knife Law Preemption is Knife Rights' signature legislative initiative and is the essential foundation for improving knife laws and protecting knife owners. By preempting municipalities and counties from creating knife ordinances more restrictive than state law, Knife Law Preemption prevents a patchwork of laws that serve only to confuse and entrap law-abiding citizens traveling within the state. Preemption ensures citizens can expect consistent enforcement of state knife laws. Knife Rights passed the nation's first Knife Law Preemption bill in Arizona in 2010 and has since passed preemption laws in Alaska, Georgia, Kansas, New Hampshire, Oklahoma, Tennessee, Texas and Utah.