Added Practicality for Your Favorite Ammo Box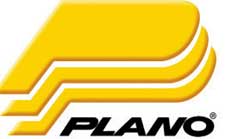 Plano, IL -(AmmoLand.com)- Plano's venerable Model 1312 Field Box has been a favorite among hunters and shooters for decades.
The affordable workhorse holds 6-8 boxes of ammunition inside its tough plastic shell, and further protects its payload with a water resistant O-ring seal and a heavy-duty brass bail latch. The stackable 1312 executes its primary mission with a soldier's dedication.
The classic 1312 Field Box reaches a new level of utility with Plano's release of the new Model 1312600 1312 Field Box Holster – a cleverly engineered ballistic Nylon wrap that transforms the 1312 Field Box into a fully dressed tactical field bag, creating the perfect companion for an afternoon at the shooting range.
The 1312 Field Box Holster comes complete with its own 1312 Field Box. Load it up and go, or replace it with any 1312 from your own arsenal as specific needs arise. The Field Box attaches quickly and securely to the Field Box Holster using simple built-in webbing loops at each end. The top of the box remains exposed for fast and easy access to ammunition or other contents, as well as the box's hinged heavy-duty handle.
Complete with a multitude of useful pockets, non-slip cleated feet and an adjustable padded shoulder strap with heavy-duty quick-connect hardware, the 1312 Field Box Holster takes on range duties with adroit adaptability. A large, zippered outer pocket holds shooting accessories, tools or personal protective gear, while another large, covered side pocket is provided on one end for additional essentials. Two specialized magazine pockets are found on the other end. The back of the holster has an expansive and versatile mesh pocket for keys, staple gun or other goodies.
Plano Model 1312600 1312 Field Box Holster:
Large 9" x 2" x 4.25" Outer Pocket
Two 1.75" x 4.5" x 1.75" External Magazine Pockets
Large 4" x 4" x 1.75" Side Pocket
Back Mesh Pocket
Padded Adjustable Shoulder Strap
Cleated feet on bottom to prevent sliding
Plano 1312 Ammo Box Included
Exterior Dimensions: 11.625" x 5.125" x 7.125"
Interior Dimensions: 9.6" x 4.25" x 6.5"
Water Resistant O-Ring Seal
Hold 6-8 boxes of Ammo
Heavy Duty Carry Handle
Industry Leading Brass Bail Latch
MSRP: $34.99
About Plano Molding
Hunters and shooters who love their Model 1312 Field Boxes now have even more to appreciate with the added practicality of Plano's new Model 1312600 1312 Field Box Holster.
Learn more at www.PlanoMolding.com.