Lansing, Mich. -(Ammoland.com)-  Creating and planting wildlife food plots over the years has been a learning and rewarding experience.
In most cases, the plots have been from less than an acre to multiple acres, allowing the use of my trusty 1948 Ford 8N tractor.
While some may consider the little tractor under-powered – and, it certainly would be for larger work – it's what I have.
It has just enough horsepower, utilizing half of Henry Ford's V8, to pull a 6-foot disk harrow under most conditions and has done an admirable job. However, creating a new plot site, much too remote and small such as this, would mean even the diminutive tractor would be too much.
The project actually began years ago, when I decided a tiny knob overlooking a swamp would be the perfect location for a secluded hunting hideout. The challenge was complicated by the fact that an old truck frame, complete with wheels and flat, dry rotted tires was discarded precisely on top of the tiny hill. Since it had been left there for so long, woody shrubs, vines, and trees had proliferated the area.
Rather than making a project out of removing the old iron, it was decided to build a hunting shack on top of the aging frame. Doing so meant a working path would have to be created to merely get to the location. With the laborious chore behind me, the functional shack was constructed and looks like a doodlebug right out of the Beverly Hillbillies – except for the non-functioning satellite dish.
Now it was time to tackle the menacing poison ivy, autumn olive, wild berry bushes, and anything else that was green. Fortunately, a few good friends were willing to battle the brush and when the chainsaws and perfectly capable DR mower were put away, the plot site had been cleared.
That was last fall and since then, the wild plants grew back, as big and bad as ever, making visibility from the shack impossible, once again. As good as the DR mower is, it only mows brush down to about 5 inches or so, leaving problematic, tire-poking stubby growth everywhere. Since a Food Plot Seed of clover mix was to be planned, it would be necessary to mow it throughout the years necessitating the removal of the tire spikes.
Food Plot Battle, Seed + Fertilizer
Back for another attack – this time with the Stihl Kombi System hedge trimmer – the brush was busted right down to the ground and treated with a strong mix of Roundup (41 percent glyphosate.)
With a hand-spreader, fertilizer and pelletized lime has been applied and during the first week of August the clover and brassica seed will be broadcast to finish the remote ground-cover food plot.
After that, it's sit back, hide and watch for more deer in the years to come.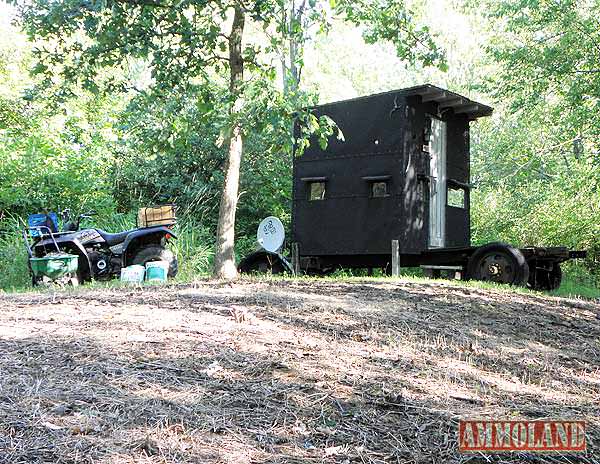 About Glen Wunderlich:
Charter Member Professional Outdoor Media Association (POMA). Outdoor writer and columnist for The Argus-Press (www.argus-press.com) and blog site at www.thinkingafield.org  Member National Rifle Association (NRA), Michigan United Conservation Clubs (MUCC), member U.S. Sportsmen's Alliance (USSA), Quality Deer Management Association (QDMA), Commemorative Bucks of Michigan (CBM).