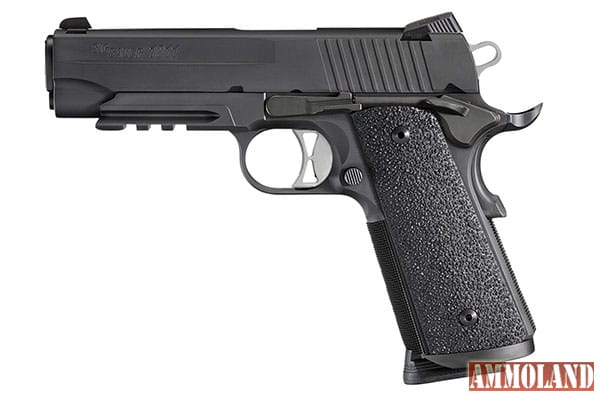 Newington, NH -(AmmoLand.com)- SIG SAUER, Inc., is now shipping its proven 1911 TACOPS platform chambered in the powerful .357 SIG caliber.
With a tried and tested pedigree earned working with law enforcement agencies such as the Texas Department of Public Safety, the SIG SAUER 1911 TACOPS offers top-of-the-line accuracy and reliability in the ergonomically friendly 1911 design. Now paired with the high-velocity ballistics of the .357 SIG cartridge, the 1911 TACOPS is the perfect choice for personal defense or small game hunting.
The Nitron stainless steel slide and frame boasts a rugged, durable finish, while the Ergo XT grips provide a firm command of the pistol even when wet or muddy. A skeletonized hammer and trigger offer high performance while the crisp, 5-lb, single-action-only trigger maximizes the accuracy. The 5˝ barrel capitalizes on the enhanced ballistics of the .357 SIG cartridge, and ambidextrous manual safeties provide the flexibility demanded by professional users.
Low-profile night sights and a MIL-STD dust cover rail for lights and lasers make the 1911 TACOPS a great low-light option. No matter if the task is concealed carry, law enforcement detail, or hunting feral hogs, the 1911 TACOPS is up to the challenge.
The 1911 TACOPS package is rounded out with an enhanced beavertail safety, steel magwell and four
8-round magazines.
With ballistics matching the vaunted .357 Magnum round, the .357 SIG features enhanced energy transfer and intermediate barrier penetration capabilities. In use by numerous elite law enforcement agencies, the .357 SIG is ideal for defensive duty.
Follow SIG SAUER on social media, including Facebook at www.facebook.com/sigsauerinc, Instagram at www.instagram.com/sigsauerinc, and YouTube at https://www.youtube.com/user/sigsauerinc.
For more information, please visit www.sigsauer.com.
About SIG SAUER, Inc.:
SIG SAUER, Inc. is a New Hampshire-based weapons systems provider leading the industry in American innovation, ingenuity, and manufacturing. SIG SAUER brings a dedication to superior quality, ultimate reliability, and unmatched performance that has made it the brand of choice among responsible citizens, and many of the world's most elite military, government, and law enforcement units. As a complete systems provider, SIG SAUER offers a full array of products to meet any mission parameter, from handguns and rifles to silencers, optics, ammunition, accessories, and airguns. The largest member of a worldwide business group of firearms manufacturers that includes SIG SAUER GmbH & Co. KG in Germany and Swiss Arms AG in Switzerland, SIG SAUER is an ISO 9001: 2008 certified company with more than 1000 employees.
For more information on SIG SAUER, any of its products, or the SIG SAUER Academy, log on to www.sigsauer.com.