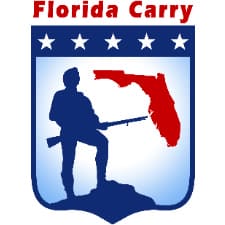 Tallahassee, FL -(AmmoLand.com)- The Florida Sheriffs Association voted in secret and announced that there are 47 unidentified Sheriffs opposing Open Carry.
You deserve to know where your Sheriff stands. Bay County Sheriff Frank McKeithen yesterday came out in favor of open carry. He also explained that any issues with the current bill's language could be dealt with over time. He said as an officer sworn to uphold the Constitution, open carry came down to supporting the Second Amendment.
So far, we are aware of six Sheriffs who have chosen to defend Second Amendment rights by supporting Open Carry.
Bay County Sheriff Frank McKeithen
Bradford County Sheriff Gordon Smith
Brevard County Sheriff Wayne Ivey
Nassau County Sheriff William Leeper
Pasco County Sheriff Chris Nocco
Wakulla County Sheriff Charlie Creel
On the other hand, the Florida Sheriffs Association is fighting against Open Carry, often using questionable and outright false "facts".They are also keeping you in the dark about which Elected Officials voted against your right to bear arms.
Pinellas County Sheriff Bob Gualtieri, who also acts as the Florida Sheriff's Association legislative committee chairman, has been very vocal in the press against open carry. He also makes a great point…
"Every sheriff is welcome to speak to whoever they want to on what their feelings are or how they voted," Gualtieri said. "They could be asked individually…"
Good Idea Sheriff!
Please contact your Sheriff using the email addresses below and ask if they support or oppose Florida becoming the 46th Open Carry State.
Don't forget to thank Sheriffs Ivey, Smith, Creel, Nocco, Leeper, and McKeithen for standing up for our Second Amendment rights.
About Florida Carry, Inc.:
Florida Carry, Inc. is a non-profit, non-partisan, grassroots organization dedicated to advancing the fundamental rights of all Floridians to keep and bear arms for self-defense as guaranteed by the Second Amendment to the United States Constitution and Article I, Sections 2 and 8 of the Florida Constitution. Florida Carry stands to represent our supporters, members, and millions of defensive arms owners of Florida. We are not beholden to any national organization's agenda that may compromise that mission. Florida Carry works tirelessly toward striking down ill-conceived gun and weapons control laws that have been proven to provide safe havens to criminals and be deadly to law-abiding citizens.
For more information, please visit www.FloridaCarry.org.