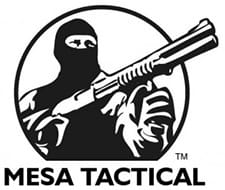 Costa Mesa, CA -(Ammoland.com)- Mesa Tactical is now offering the SureShell Shotshell Carrier made from durable, impact resistant polymer.
This new polymer shotshell carrier system, available in a six shell configuration, features shell holders injection molded from glass filled polymer, secured to the receiver by a lightweight aluminum back plate with brass threaded inserts. The new SureShell Polymer Shotshell Carrier also includes an innovative dual rubber friction system that reliably holds shotshells in place. Models are available with and without integral Picatinny rails for mounting optics.
Professional operators who are unwilling to sacrifice quality, performance, and durability, will find Mesa Tactical's new polymer shotshell carriers to be an especially attractive and economical alternative to the low-cost consumer grade plastic shell holders offered by competitors. Like all SureShell carriers, the new polymer SureShell shotshell carriers work well in all climates and environments, and are designed to withstand the daily use and abuse to which arsenal weapons are commonly subjected.
This system securely holds shells in place until needed at which time they are readily accessible and easily removed for rapid reloading.
"In addition to our commitment to manufacture products of uncompromising quality, we are also committed to a systems approach to product design that affords unusual flexibility and adaptability for a variety of end users," said Mitch Barrie, President of Mesa Tactical.
The new six-shell SureShell Polymer Carriers are available for a variety of today's most popular shotgun models including the Remington 870, Remington semi-automatics, Mossberg 500, Mossberg 590, Mossberg 930, Maverick 88, Benelli M2, M4 and Benelli SuperNova.
SureShell Polymer ShotShell Carrier:
Made from injection molded-glass filled nylon
Lighter weight than aluminum
Secures to lightweight aluminum backplates by brass threaded inserts
Innovative dual rubber friction retention system reliably holds shotshells in place
Comes with/without Picatinny optics rail
Mounts via brackets attached to shotgun or via drilled and tapped receiver holes
Sureshell Shotshell Carriers can be attached to Mesa Tactical's Urbino Pistol Grip Stock.
No gunsmithing required; All necessary hardware included
MSRP: $36- $98
Prices and availability:
94740 SureShell Polymer Carrier for Remington (6-Shell, 12-GA) $36.00
94750 SureShell Polymer Carrier for Moss 500/590 and Mav 88 (6-Shell, 12-GA) $41.00
94760 SureShell Polymer Carrier for Moss 930 (6-Shell, 12-GA) $48.00
94790 SureShell Polymer Carrier for Ben M1/M2/M3 (6-Shell, 12-GA) $48.00
94830 SureShell Polymer Carrier and Saddle Rail for Rem 870 (6-Shell, 12-GA, 5 in) $98.00
94920 SureShell Polymer Carrier and Rail for Ben SuperNova (6-Shell, 12-GA, 5½ in) $83.00
94930 SureShell Polymer Carrier and Rail for Ben M4 (6-Shell, 12-GA, 5½ in) $93.00
94940 SureShell Polymer Carrier and Rail for Ben M2 Tactical (6-Shell, 12-GA, 4½ in) $93.00
Please visit the following link for a full list of participating retailers. http://mesatactical.com/dealers.
About Mesa Tactical
Mesa Tactical was formed in 2003 to design and manufacture rugged, professional grade tactical accessories and equipment for law enforcement, military and civilian shooters. Specializing in enhancements for the tactical shotgun, Mesa Tactical's products include stocks, forends, shotshell carriers, scope mounts and Picatinny rails. For more information on the company's line of unique, professional-grade products, contact Mesa Tactical at 1135 Baker Street, Costa Mesa, CA, 92626 • Telephone: 714-545-3332.
For more information, please visit www.MesaTactical.com.