By Bob Shell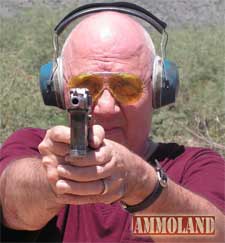 Apache Junction, AZ -(Ammoland.com)- The 327 Federal magnum round is popular enough that Ruger has come out with a double action model to go along with the SA models that are and were offered.
The Ruger SP101 Double-Action Revolver resembles the 357 magnum but has a smaller frame.
From Ruger:
"The Ruger SP101® revolver boasts the strength to handle the powerful 357 Magnum cartridge in a controllable, small-framed double-action revolver. Among the most powerful small-frame revolvers on the market, they are engineered for solid performance. Featuring a recoil-reducing grip, the SP101® is comfortable to shoot and perfect for personal defense or field use." (note we are testing the one chambered for the 327 Federal Magnum )
Ruger SP101 Double-Action Revolver
The grip is really small even for me and I have average size hands at best. If I were going to keep it, a custom size grip would find its way on it.
For someone with small hands it should be perfect. It would be a good pocket or purse gun due to its size and power.
The double action trigger is the only features I can criticize. I would take it to a gunsmith and have the trigger worked on if I was going to keep it.
The SA breaks at just over 4 LBS. according to my Trigger Pull Gauge. Due to the hammer shape it is more difficult to cock then the SA model I have. In my view with a good trigger, accuracy would be outstanding. With that thought I did all of my shooting SA. For full disclosure I don't have strong hands which affects the way I shoot. The sights are adjustable and easy to pick up with the front being a fiber optic. Recoil with a heavy load is very manageable.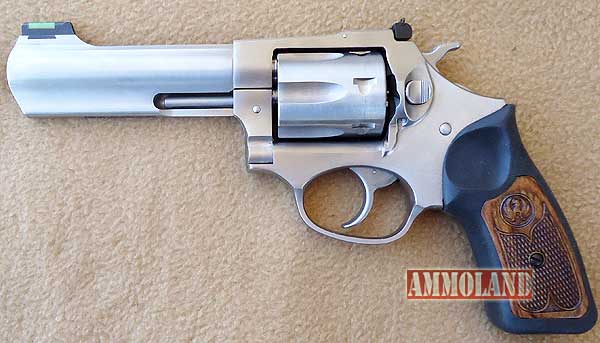 The 327 Federal Magnum round is a potent round with the capability of providing self-protection.
In addition you can fire several other rounds including the 32 S & W, 32 Long, 32 H & R mag as well as the 327. Other then the 327 Federal Magnum the rest are anemic including the 32 H & R. However, they can make light target loads though the older 32 rounds may be difficult to find. Various companies make ammo and they are easy to handload for as there is a large selection of cast and jacketed bullets.
With a full power load, energy can be close to 500 FT LBS. which is pretty impressive especially in a 32 caliber revolver. The secret is the 327 operates at a high pressure for a handgun. So in spite of its small size it packs a punch. That would be close to a 357 with a 125 grain JHP at 1400 FPS which is a highly regarded self-defense load. While suitable for small game and pests, it would not be a good choice for larger game.
It displays good accuracy and with its size and weight, it would be a good trail gun unless you came upon a bear.
From an earlier T&E revolver review I have a single action Ruger Blackhawk Revolver chambered for the 327, It is a large frame 8 shot so it should be instructive to compare the two. The Ruger SP101 Double-Action Revolver has a 4" barrel as opposed to the 6 & 1/2" on the larger single action. That should produce a difference in velocity. There is an average of 80 to 100 FPS between the two guns. If I were going out on a trail or a hunting trip, the SA Ruger Blackhawk would be my companion unless room was a consideration.
The smaller Ruger SP101 Double-Action Revolver would be a nice carry gun since it is smaller. With the modern bullets, available self-defense is a viable option. The SA Ruger Blackhawk is an 8 shot while the smaller Ruger SP101 Double-Action Revolver carries 6 rounds.
In between Ruger produces a 7 shot SA on a limited basis and the obvious question is why? The idea is to produce a smaller and lighter SA as the eight shot is based on the Blackhawk 357 frame. While a great shooter some would find it heavy to carry so the seven shot is based on the 22 SA frame.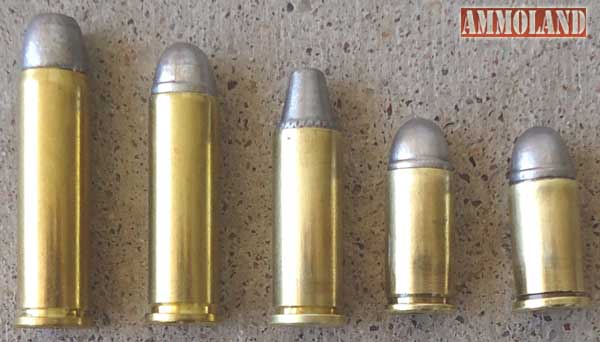 There are at least 5 rounds that can be safely fired in the Ruger SP101 Double-Action Revolver.
They include:
32 S & W
32 auto
32 long
32 H & R mag
and the 327 Federal
Most of them are anemic though they may beat a stick in a social encounter. The 32 auto will work but with the small rim, it may not always extract. The only reason to use it would be in a pinch if nothing else were available. The 32 auto rounds are decently accurate in the guns tested. The 32 round has been around for over 130 years starting with the short and the 32-20, which takes the same diameter bullet.
The question may come up as to the 32 Colt rounds. They made a short and long version to compete with the S & W rounds however; they never caught on and are not common today. They can be fired though, they have a slightly smaller diameter so will split if fired in the S & W chamber. While not dangerous results will be poor and I don't recommend it. The original 32 Colt bullet was a .299 diameter hollow base.
There are a verity of bullets and powders so handloading isn't much of an issue. I took some Remington 71 grain FMJ bullets and installed a cannelure. Such a bullet would not destroy much meat, which would be desirable in a critter that you wanted to cook and eat. They are screamers and relatively flat shooting. Moderately loaded cast bullets will produce good accuracy.
Even today, the 32 long is used in competition due to its superior accuracy and low recoil. A wad cutter would be a good choice for someone looking for target type of accuracy. I have shot some 32 short and long and they are ok for target shooting since the noise and muzzle blast are mild.
Double Tap provided two types of ammo. Federal also produces 327 ammo for this chambering.
LOAD BULLET VELOCITY COMMENT
7.5 grains 231 71 grain FMJ 1587 consistent
Double Tap 75 grain Barnes 1457 high ES
3 grains 231 85 grain Berry 713 accurate
4 grains Trail Boss 100 gr WC 32 mag 797.4 high es
11 grains 2400 100 grain Hornady HP 1376 ok
11 grains 2400 100 grain Speer HP 1359 consistent
Double Tap 115 grain hard cast 1373 high es
4 grains Unique 115 grain cast FP 1005 accurate
The ammo sent from Double Tap has a high ES and SD, which is unusual. I fired it in my eight shot SA Ruger Blackhawk and there wasn't a lot of difference in velocity between the two guns. The SA was more consistent which shows that each gun has its preferences in ammo. Even if you use only factory ammo there is differences in how they perform. Like most other ammo, factory loads have improved a lot over the last 20 years though the 327 hasn't been around that long. In addition, I have been finding that Trail Boss generally gives high standard deviations in many of the handguns tried. For light and target loads, WW-231 is good choice.
As far as I know there is no rifle available for the 327. An inexpensive single shot would be a nifty little rifle. With full power loads, you would get in the neighborhood of an additional 400 FPS. The normal diameter is .311 though a .308 would work. They may be loose in the case and produce poor accuracy but will do in a pinch. You could neck the first ¼" case down to hold the 30-caliber bullet but I don't see any upside to that procedure.
As is my normal practice I have several other shooters try it. A fellow writer's son shot the Ruger SP101 Double-Action Revolver in 327 Federal Mag some. He is recovering from a broken wrist so he isn't 100% but he managed it for the most part. The only difficulty was that he had trouble shooting it double action due to his wrist. Anyway, he liked the light weight and the sights as they are easy to pick up. He found it accurate and pleasant to shoot and would buy one. Other shooters have liked it especially its weight and handling characteristics.
Ruger SP101 Double-Action Revolver An Excellent Choice
If you want a flexible handgun smaller then a 38 caliber, the Ruger SP101 Double-Action Revolver would be an excellent choice. With the quality available, it will be a lifetime gun. I would definitely recommend both the 327 caliber and a Ruger handgun. They offer a single action but it is a distributor exclusive, which makes me glad I bought my eight shot when they were available.
For info, you can go to http://www.ruger.com/products/sp101/models.html for any info.
Ruger SP101 Double-Action Revolver Resources
Ruger SP101 Instruction Manual : https://ruger-docs.s3.amazonaws.com/_manuals/sp101.pdf
Ruger SP101 Videos : https://www.youtube.com/
Used Ruger SP101 Revolvers for sale
Ruger SP101 Parts : http://goo.gl/J8nDgj
Books on the Ruger SP101 Revolver
About Bob Shell:
A Custom Reloader of Obsolete and Antique Ammo, Bob Shell, writes about the subject of Guns, Ammo, Shooting and Related Subjects. Visit: www.bobshellsblog.blogspot.com