By Rick Ector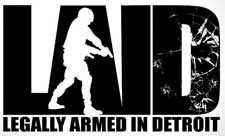 Detroit, Michigan – -(Ammoland.com)- Legally Armed In Detroit, a gun rights advocacy web site, is announcing that it will conduct a free seminar for citizens that will inform them of what happens in the aftermath of a defensive shooting.
This seminar is believed to be the first of its kind ever offered to civilians. The intended audience for this training is anyone who owns a firearm for self-defense.
Most personal protection training prepares citizens with info that is relevant before the usage of defensive force. This seminar is different, as it starts with the premise that a defensive shooting has already occurred. The seminar features a panel discussion with law enforcement, bail bondsmen, criminal defense attorneys, and legal protection representatives.
Topics will include but is not limited to the following:
What should you do immediately after a shooting?
What you should expect from law enforcement when they arrive?
What factors will determine if you will be arrested?
If arrested, how do you get out of jail?
Everything you need to know about the services of a bondsman.
The conflict of interest between a bonding company and an attorney.
How to select an attorney to represent you?
How much money does a criminal defense case cost?
How can you afford the cost of a criminal defense case?
Is a legal protection plan a good option for you?
Things to know about legal protection plans.
The Seminar is open to the public but advance registration is required. Seating is limited.
RSVP Now: https://www.eventbee.com/v/rick9mm/event?eid=116234065
The free three hour seminar will be held at 10 am on Saturday, November 7th at the following venue:
Detroit Trade Market, 8500 E. Eight Mile Road, Detroit, MI
Rick Ector is a National Rifle Association credentialed Firearms Trainer, who provides Michigan CCW/CPL Class training in Detroit for students at his firearms school – Rick's Firearm Academy of Detroit.
Ector is a recognized expert in firearm safety, a gun rights keynote speaker, and has been featured extensively in the national and local media: Associated Press, Fox News, USA Today, NRAnews, Gun Digest, The Politics Daily, Fox News Detroit, The Detroit News, Lock-N-Load Radio, WGPR and the UrbanShooterPodcast.