Los Osos, CA -(AmmoLand.com)- Apex Tactical Specialties has teamed up with three of the most respected custom gun builders on a special Smith & Wesson M&P build for the Brownells Dream Guns Project.
The result of the collaboration, a one-of-a-kind M&P Pro 9mm, will be showcased in the Brownells booth (#13018) during the 2016 SHOT Show in Las Vegas.
The Brownells Dream Guns Project was started in 2011 to help feature the wide range of parts and accessories available from Brownells that customers can use to upgrade and customize their own pistols, rifles and shotguns. To date over 100 Dream Guns have been built and are available for review at Brownells.com.
"When Brownells asked us to participate in their Dream Guns Project by submitting a custom M&P fully equipped with Apex upgrades, we decided to take it a step further and turned to a trio of custom gun builders whose collaborations are some of the most recognized and coveted among custom firearms aficionados," explained Scott Folk, vice president of Apex.

"To give our M&P Dream Gun its one-of-a-kind look we asked Doug Presson of DP Custom Works, Mike Sigouin of Blowndeadline Custom and Damon Young of SSVI to contribute their expertise. These three have worked together on so many guns, and their work so highly regarded, that we knew they'd be the ideal partners for our Brownells build."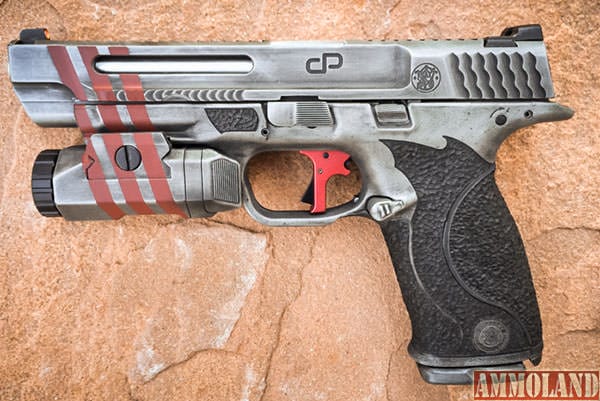 Apex's contribution to the build was a suite of key performance parts that have made Apex the go-to company for M&P upgrades. Included in this build are the company's newly released patent pending Apex Grade Gunsmith Fit Barrel, patented Flat-Faced Forward Set Sear & Trigger Kit, with the "Red Flatty" anodized trigger sold exclusively by Brownells, the Failure Resistant Extractor, patented Reset Assist Mechanism and Apex 10-8 Performance Polymer Base Pads.
Additionally, Apex outfitted the pistol with a Catalyst Extended Magazine Release from 21 Century Gunfighter and a sight package configured of an Ameriglo ProGlo green tritium with bright orange outline front sight and a 10-8 Performance U-Notch rear sight. Also contributing to the build was flashlight and weapon light manufacturer Inforce which supplied one of their popular APL 200 lumen pistol lights.
However, it's the work of DP Custom Works, Blowndeadline Custom and SSVI that gives the pistol its unique appearance. DP Custom Works machined the slide, lightening it and adding side and top scales. The gray with red accents finish of the slide, frame and Inforce APL light is the result of the Cerakote work of Blowndeadline Custom. The finishing touch is the signature look of SSVI's 360º texturing, hard edge bordering, undercut and trigger guard texturing, as well as forward reference point texturing.
The upgraded and customized Apex M&P Dream Gun is valued at over $2,700 and will be on display throughout the 2016 SHOT Show in the Brownells booth and is sure to garner a great deal of attention from show attendees.
Apex M&P Dream Gun Features:
For more information on Apex parts and services, visit www.ApexTactical.com, like Apex Tactical on Facebook or follow @ApexTactical on Twitter.
Instructional videos on the installation of Apex parts are available on Apex's YouTube channel.
About Apex Tactical Specialties, Inc.:
Apex Tactical Specialties, Inc. was created to serve Law Enforcement personnel, competition shooters, and individuals who recognize the need for defensive tools to be more than "just adequate" for the job. We are a quality-driven and progressive organization – our product line, services, and expertise are continually evolving. Our mission is simple: superior parts, exceptional performance and craftsmanship, and above all, unparalleled customer service.
For more information on Apex Tactical Specialties, Inc. and its full line of products, please visit www.ApexTactical.com.