By Mike Searson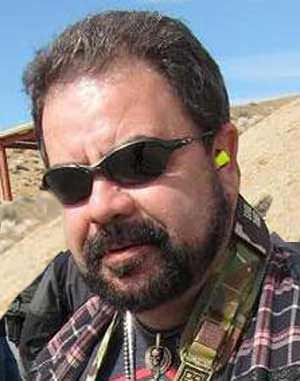 USA -(Ammoland.com)- Earlier this year we reviewed the Bond Arms Cowboy Derringer, this was a personally owned firearm that the author has had for a number of years.
Now Bond Arms let us try out the Bond Arms Ranger II Pistol which really stretches the concept of a derringer (BA told us they don't like the word derringer…) into a 4.25″ .410/.45 Colt barreled unit.
What it gives up in concealability though, it makes up for in accuracy and effectiveness.
Operation and loading is simple. Push down on the lever to open the action, insert ammo and snap it closed.
Cock the hammer to ready the trigger, press the trigger to fire, repeat for the bottom barrel and open it again to unload and make ready again if need be.
Bond Arms Ranger II Pistol – The Good
While these derringers are patterned on the outline of the original Remington Derringers, they sure look and work a lot better. Modern materials and updated designs make these more capable than anything produced in the late 19th century and due to their use of stainless steel in the construction, they will probably carry this look into the next century, unlike the historical models.
Outwardly, this is an impressive looking handgun that would look great in a movie. It is definitely bigger than some of our subcompact pistols and the longer barrels actually make the 45 Colt round more viable than they would be in shorter Derringers chambered in this combo.
The Bond Arms Ranger II Pistol has a greatly improved trigger design over the earlier models, a trigger guard and a rebounding hammer. The locking lever is spring-loaded for ease of manipulation and the cross bolt seems quicker to manipulate.
We were able to score hits on our target at up to 50 feet instead of a more typical "Derringer range" of 5 to 10 feet with 45 Colt 250 grain SWC. The longer barrels are not much of a help to the shotgun patterns at that range, but if a snake is that far away, he is not a danger to you.
Included with the Bond Arms Ranger II Pistol is a custom leather driving holster and like all Bond Arms Derringers, the barrels can be removed and replaced with a variety of different calibers including 357 Magnum, 44 magnum, 10mm, 9mm, 22 lr, etc.
Bond Arms Ranger II Pistol – The Bad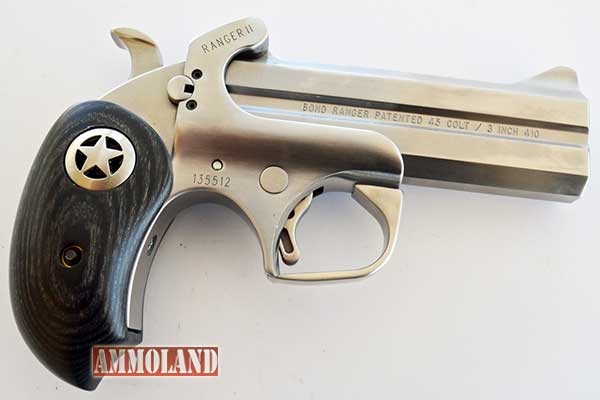 It's a Derringer (yeah, I know..), so you are limited to two rounds and need to brush up on your skills if you find yourself needing to reload this on the fly!
Even with the longer barrel, this is still not a target pistol and if you hope to hit a target beyond 25 feet, it will take some practice. In shooting 45 Colt Cowboy loads we found the top barrel to be true to point of aim and the bottom barrel shot about 3 to 4 inches lower.
This is actually not as bad as it sounds in rapid fire if you cock the hammer while the gun is rising due to recoil and fire the second round before you fully recover. Still it can be tricky for a shooter new to this design to grasp.
This particular model is big and despite its looks and power level, we would not recommend it as a primary carry piece for most people as there are better alternatives.
Bond Arms Ranger II Pistol – The Reality
The gunsmiths at Bond Arms, have taken the manufacture of derringers to an entirely new level. Modern materials and improved mechanisms make for an extremely well-made product. The satin finish gives these a "Display Gun" look, but it also protects the hardware from the elements.
The Bond Arms Ranger II Pistol is no novelty and we can see it being practical in snake country or capable of dispatching a wounded game animal or threatening predator for a hunter who may be carrying a long gun and does not want to strap on a long barreled revolver or full size semiautomatic pistol for a weekend hunt.
This is not a gun for everyone. Some shooters will see it as a viable must-have, some will buy it as a range toy and some simply won't get it. That's fine. That's why we have choices.
Bond Arms Ranger II Pistol Specs:
Weight: 23 1/2 oz.
Overall Length: 6 ¼"
Barrel length: 4 ¼"
Caliber: 45 Colt/.410 shotgun
Stocks: Black Ash Star Grips
Sights: Blade front and Fixed Rear
Retail Price: $673.00
Resources:
---
---
Check out this insider video from Bond Arms on the Bond Arms Ranger II Pistol:
---
About Mike Searson
Mike Searson's career as a shooter began as a Marine Rifleman at age 17. He has worked in the firearms industry his entire adult life as a Gunsmith, Ballistician, Consultant, Salesman, Author and was first certified to teach firearms safety in 1989.
Mike has written over 2000 articles for a number of magazines, websites and newsletters including Blade, RECOIL, OFF-GRID, Tactical Officer, SWAT, Tactical World, Gun Digest, Examiner.com and the US Concealed Carry Association as well as AmmoLand Shooting Sports News.