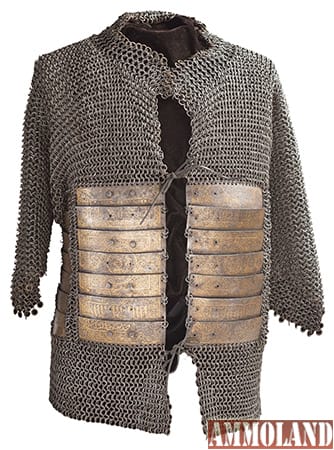 Rock island, IL -(AmmoLand.com)- What an exciting and ground-breaking weekend! Firearms collectors and investors of every genre were active in droves for our 2015 December Premiere Firearms Auction, and the proof is in the results.
Not only did this sale involve a dramatic new record high price for an item sold at RIAC, it also saw a three-day realized total of NEARLY $15 MILLION DOLLARS. This number is impressive to be sure, and we love the incredible participation that was required by all of you to make it possible. However, that number is outshone by two even more significant figures. The first of which is our new, record-breaking annual sales total of:
Never before has a firearm auction house reached this astonishing new benchmark. In fact, no one else has ever surpassed even $40 million. It is an incredible feat for which we cannot thank you enough. It was your trust, your sharing of these exceptional firearms, and of course, your valued participation in this fascinating and beloved pastime. This new mark of $51+ million in sales, leads us to the second significant figure of this auction. That sales number officially confirms Rock Island Auction Company as the world's #1 firearms auction house for…
What an outstanding (and continuing) streak! It has involved amazing firearms, friends both new and old, and more people buying firearms than ever before in history.
Again, a huge thank you to everyone who played a role in this impressive feat. Here are some of the highlights from this thrilling weekend:
Lot 1262: Undoubtedly the item of the YEAR! This historical shirt of armor dates back to a 15th century Egyptian sultan and sold for an heart-stopping $2.3 MILLION dollars to a U.S. buyer.
Lot 1014: An exceptional John Ulrich engraved, gold inlaid Winchester 1894 rifle from the legendary Mac McCroskie Collection proved why it belonged in such a renowned grouping and brought $207,000.
Lot 1329: A massive Red Stag wall mount serving as the flagship to The Royal Hunt Collection of Imperial German hunting trophies charged past its estimate to earn $69,000. The collection as a whole sold impressively with all 19 pieces totaling sales of over $420,000.
Lot 3174: Easily the largest item in the auction, a 1855-dated Ames Foundry 6-pounder cannon from the U.S. Civil War era had bidders firing volleys of their own before finally settling at $109,250.
To read about more of the results and trends that took place this weekend please click here to view the write up on our web site.
Our next auction…
will be our Online Only Auction to be held Friday, January 29. Keep an eye on our newsletters for when the first batch of items will be posted online for bidding. Shortly thereafter will be our 4-day, 2016 February Regional Firearms Auction!
We are still accepting consignments for future events, so contact us today. The consignment deadline for the April Premiere sale is February 1st! For more information on consigning with Rock Island Auction Company, please call 1-800-238-8022 or send an email to [email protected]
For those curious…
The Prices Realized from our December 2015 Premiere Firearms Auction are already available on our Online Catalog or by viewing the PDF document on our website. To use the Online Catalog, simply search for the item using a keyword, lot number, or any other of our search styles and hit enter. When the item appears, all the way on the right will be a button that says "View Price" and when you click it a pop-up window will appear with that item's price. It's as easy as that. Enjoy!
Upcoming Auctions:
ONLINE ONLY AUCTION:
January 29, 2016 – FRIDAY!
REGIONAL AUCTIONS:
February 25 – 28, 2016 – 4 DAYS!
June 24 – 26, 2016
PREMIERE AUCTIONS:
April 29 – May 1, 2016
September 9 – 11, 2016
December 2 – 4, 2016
About Rock Island Auction Company:
Rock Island Auction Company is the world's #1 auction company for firearms, bladed weapons and militaria. Founded in 1993 by its current Owner and President Patrick Hogan, RIAC continues to set records for sales and to lead the industry with its extensive and beautiful marketing efforts. Their 86,000 square foot facility hosts 5 auctions each year. They actively seek consignments, be it a single weapon or a collection of hundreds, a thousand dollar item or one million.
For more information, please visit www.RockIslandAuction.com or call 1-800-238-8022.