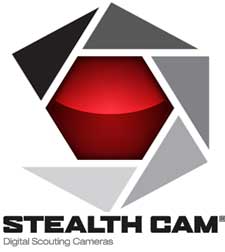 Grand Prairie, TX -(AmmoLand.com)- Stealth Cam, since its introduction in the year 2000, has subsequently re-invented the concept of wildlife surveillance cameras.
For 2016, Stealth Cam celebrates 15 years by further refining their proven technology across the product line up, continuing to push the limits on product capabilities to bring hunters and outdoor enthusiasts purpose engineered, reliable trail cameras.
The ALL NEW G-PRO Series expands up on the performance of the legendary G series cameras. Increased night coverage and adjustable PIR Range Control are among a few of the new features built into an entirely new housing. Additional features include Matrix Blur Reduction technology & the ability to shoot High Definition Video. With trigger speeds of less than half a second and advanced power management software, the G-PRO Series raises the bar once again.
Continuing the upgrades across the line up, Stealth Cam's NEW ZX Series expands the capabilities of the RX line with a new low light image sensor, increasing the brightness of captured night images by 20-30%. The new ZX series also boasts a 16:9 wide image format and a sub one second trigger speed, all in an ultra compact weatherproof housing.
Rounding out the line up is the ALL NEW PX-Series delivering more features in an economical, easy to use trail camera. A new low light image sensor delivers 20% brighter nighttime images, as well as a smaller, sleek, look to the housing reducing overall footprint by 15%. The easy dial Quick Set programming makes setting up the PX a quick & easy task
Proven performance and reliability are the cornerstones on which Stealth Cam continues to innovate and build trail cameras to meet the demands of the modern hunter and outdoor enthusiast.
Visit the Stealth Cam booth #1601 to learn more about Stealth Cam's exciting 2016 Line.
About Stealth Cam, LLC:
Founded in 2000, Stealth Cam, LLC offers a variety of digital scouting/surveillance and specialty cameras, along with a variety of accessories to enhance output of these products. For more information, contact: Stealth Cam, LLC, 3385 Roy Orr Blvd. Grand Prairie, TX 75050, Phone: 877-269-8490,http://www.gsmoutdoors.com/stealth-cam or email [email protected] Stealth Cam is a division of GSM Outdoors.
Learn more about their brands at www.gsmoutdoors.com.