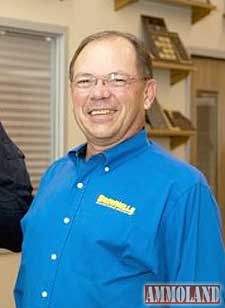 Grinnell, IA -(AmmoLand.com)- Our whole Brownells Gang hopes you had a very Merry Christmas and Happy New Year!
I know we all enjoyed our annual Christmas Party on Christmas Eve Day before scattering to spend the holiday with family and friends. Now we're building steam for the new year!
SHOT Show Is Coming Up Fast – As soon as we jump into 2016, we have the SHOT Show, held January 19-22 2016 at the Sands Expo Center in Las Vegas, Nevada. For all of us in our industry, the SHOT Show is sort of like what the Daytona 500 is for NASCAR fans – a rousing kick-start for the whole year!
As most of you know, just about every company connected to firearms – 1,600 in all – attends the "Shooting, Hunting and Outdoor Trade Show" to display their newest wares and do business. We'll have a bunch of the Brownells gang there to meet you, answer your questions and show you some of the really neat items we've brought along. We'd love to have you stop at Booth #13018 for a visit. We're going to have our one-of-a-kind Dream Guns™ in the booth for you to study and see just how innovative and beautiful they are.
We're a bunch of old-timers in this industry, and a handshake and a face-to-face chat still mean a whale of lot to all of us. So please stop by.
The buzz is already building for some of the new gear and gizmos that'll debut at the SHOT Show, and we can't wait to have our New Products Team see them and pick the best to add to our line-up, just for you! For those not attending SHOT, we'll keep you up-to-date on what we see via our Facebook and Instagram pages, our Twitter feed, and our website. Subscribe to them all, if you haven't already, so you don't miss out.
New Stuff You Can Get Right Now – While SHOT is still about three weeks out, here are some neat new items available at Brownells.com right now – just in case Santa forgot something on your Wish List or maybe the Brownells gift card he left in your stocking is ready to be used on an item you've just gotta have right now.
Everybody knows Magpul for its innovative and just plain cool line of magazines and accessories for the AR-15. Did you know they now offer some really nice leather gun belts, too? The "El Original" is the first of their Tejas Gun Belt line (made in Texas, of course). Not only does it look great, it's got a strip of tough, flexible polymer hidden inside to strengthen the belt and help hold up your carry gun as well as your pants. Nifty!
New from a company called Shield are the SIS and CQS Red Dot Sights. These little sights are built to take a walloping on your tactical shotgun, modern sporting rifle or even your competition pistol and still deliver a crisp, spot-on sight picture. You can get 'em with a variety of reticle patterns, so there's sure to be one to suit your taste. The SIS comes with a bullet drop compensation reticle – imagine that in a small, compact red dot sight!
Finally, our good friends at Apex Tactical have come out with upgraded barrels for the Smith & Wesson M&P. Talk about making an already good pistol into a real tack driver! There are Semi-Drop-In barrels that you can probably install by field stripping your pistol and reassembling it with the new barrel, though it might require just a tiny bit of fitting. Or you can get Gunsmith Fit barrels that require the skilled hand of a good gunsmith, but give super-tight lockup for driving those tacks.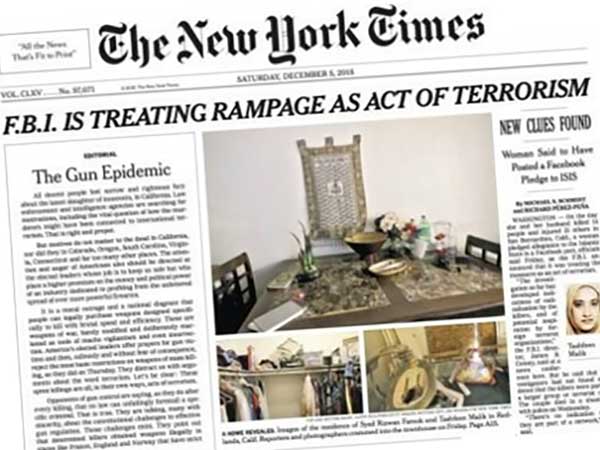 The "Newspaper of Record" Speaks Loud & Clear – In case you didn't see it, the New York Times ran an editorial "above the fold" on the front page of its December 5 2015 issue – its first front-page editorial in almost a century. Written in the aftermath of the terrorist attack in San Bernardino, California, that killed 14 people and wounded many more, this editorial said that in order to prevent similar events in the future, "It is past time to stop talking about halting the spread of firearms, and instead to reduce their number drastically – eliminating some large categories of weapons and ammunition." Good, law-abiding Americans who own semi-automatic firearms would have "to give them up for the good of their fellow citizens".
No beating around the bush there – it's pretty clear. It is an open call for gun confiscation, pure and simple.
We all know there are folks who neither understand nor appreciate our Second Amendment freedoms. But until lately, the anti-gunners tended to nibble at the edges of the matter, rather than blatantly call for the government to confiscate the property of citizens who have not committed a crime. In the last month, that New York Times editorial has been followed up by more editorials and columns in the media calling for the government to take guns away from Americans – "for our own good", of course.
It's a stark reminder of the constant threats to our liberty, and a revealing insight into the mindset of those who oppose gun ownership. It's also a great reason to join the NRA if you haven't yet. If you're already an NRA member, consider buying gift memberships for folks you know – your kids, grandkids, your nieces and nephews, your friends and neighbors. And don't forget to join your state's gun rights organization, too. The greater the mass of members the NRA can bring to the fight – and to the voting booth in November – the greater our chances of not having our rights taken away from us. We need all the help we can get in the fight to preserve our rights, especially on the eve of an important election year. Do what you can: begin by adding your name to the membership of the National Rifle Association, and to all the local pro-gun groups. Just, please do get involved.
New Year's Resolutions:
(1) Get involved in politics. Vote in your state's caucus or primary, let your voice be heard, and know who the pro-gun candidates are and vote for them.

(2) Get out there and shoot more. If you're not after critters, then punch paper or ring steel or bust some clays. Take a friend along who doesn't shoot but wants to learn. Be sure the ladies in your life know how to use the house protection gun.

(3) Remember our police, our vets, our active military and their families. Include them all in your thoughts, your prayers, and ask your priest/preacher to include them in his prayers. These guys and gals are the ones keeping us safe.

(4) Be absolutely sure your partner, older kids, parents and friends know how to protect themselves in case of an attack on you or your home. The police want to be there and will get there, but it may be too late to save the life of a loved one.

(5) Get your concealed carry permit and then carry. All of the gun-free zones are simply "targets of unopposed opportunity". We know it, so do the terrorists and the people looking for "death by police" or their 15 minutes of fame. Get your school board to train some of the school's staff to shoot competently and allow them to protect the kids. Avoid gun-free theaters, city halls, courthouses, restaurants, meeting places, and malls as much as you can. None of those locations can protect you and your family. Ultimately, it is up to you – a harsh truth, but a truth.
Whew, lots to think about. But, before I sign off, Pete, the whole Brownells Crew and I wish you and yours a safe, prosperous, very Happy New Year!
About Brownells:
Serious About Firearms Since 1939, Brownells is the world's leading source for gun parts and accessories, ammunition, gunsmithing tools, survival gear and archery. With a large selection of both common and hard-to-find items, and an extensive collection of videos, articles, and gun schematics, Brownells is the expert for everything shooting-related. Committed to maintaining our great traditions, Brownells has more, does more and knows more – and guarantees it all, Forever. Stay up-to-date with Brownells on Facebook, Twitter and Instagram.
For more information or to place an order, call 800-741-0015 or visit www.Brownells.com.