URGENT: HB-163 Open Carry by Rep. Matt Gaetz is on the agenda for the House Judiciary Committee Tomorrow (Thursday, January 28th, 2016) at 9:00am.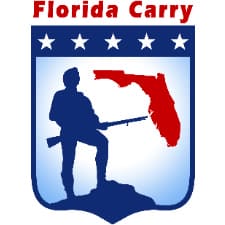 Tallahassee, FL -(AmmoLand.com)- HB-163 will allow persons with a Concealed Weapons & Firearms License the right to choose to carry firearms openly or concealed.
It will prevent CW license holders from being charged with the crime of violating the Open Carry ban.
In 30 states any legal gun owner can carry a handgun openly without any license or permit:
[1]. Only 15 states require a license to carry openly
[2]. HB163, in its current form, would still make Florida one of the few states that requires a license prior to the exercise of the fundamental right to bear arms.
Florida's Current Open Carry Ban
In Florida, and only four other states, the unconcealed or "open" carry of a firearm is generally a criminal act. This crime is punishable by up to 60 days in jail and a $500 fine.[3] There are some very specific exceptions to an open carry charge. These exceptions are all affirmative defenses[4], which means that you must admit to violating the law but claim that you were justified in doing so. For example, to avoid criminal penalties you bear the burden of proving in court[5] that you were entitled to carry openly because you were legally hunting, camping, fishing, or shooting or that you were at your own home or place of work.
A new proposal being advanced by the Florida Sheriff's Association attempts to keep Florida's Open Carry firearms policies in line with those of New York, Illinois, South Carolina, and California. While offering Florida's gun owners no additional rights or protection. The FSA's proposed amendment is intended to gut the open carry bill.
We need you to contact committee members immediately and urge them to pass this bill:
In the subject line put: SUPPORT HB-163 – Support the Right to Bear Arms
The Open Carry Bill
Currently, Florida law generally prohibits the open carrying of firearms and certain weapons. Under s. 790.053, F.S., it is a second degree misdemeanor for a person to openly carry on or about his or her person any firearm or electric weapon or device. The bill amends this provision to authorize concealed carry licensees to openly carry firearms.
Section 790.02, F.S., currently authorizes an officer to make a warrantless arrest for the carrying of a concealed weapon in violation of s. 790.01, F.S., when the officer has reasonable grounds or probable cause to believe such offense has been committed. The bill amends this provision to clarify that it only applies to the unlicensed carrying of a concealed weapon and to delete authorization for such warrantless arrests based merely on reasonable suspicion.
The bill creates s. 776.00111, F.S., and amends s. 790.25(4), F.S., to require the judiciary to employ strict scrutiny in reviewing any statute that implicates the right to bear arms or defend one's self. The bill also specifies that the right to bear arms or defend one's self is a fundamental and individual right that exists in any place that a person has the right to be, subject only to exceptionally and narrowly tailored restrictions that employ the least possible restriction on the right in order to achieve a compelling government interest.
The bill also creates s. 790.0015, F.S., to specify that it is a violation subject to liability for any person or entity to infringe on certain rights to bear arms or defend one's self. With respect to this liability, the bill states, "Notwithstanding any other provision of law, no immunity applies to such a public entity or person acting on behalf of such public entity, infringing on such rights in violation of this section." The section also provides that the rights of an owner or lessee of real property or a private employer are not diminished and they may prohibit the possession of a firearm on their property.
The bill creates s. 790.0016, F.S., to provide that no employee will have a cause of action against an employer, including termination of employment, resulting from failure of the employee to comply with the employer's orders regarding the carrying or not carrying of a weapon during working hours.
Finally, the bill amends s. 790.25(1), F.S., to specify that the Legislature finds that the possession and carrying of weapons and firearms by law-abiding individuals for lawful purposes, including self-defense, enhances public safety.
[1] AK, AL, AR, AZ, CO, DE, ID, KS, KY, LA, ME, MI, MO, MS, MT, NC, NE, NH, NM, NV, OH, OR, PA, SD, VA, VT, WA, WI, WV, WY
[2] CT, GA, HI, IA, IN, MA, MD, MN, ND, NJ, OK, RI, TN, TX, UT
[3] 790.053 Fla. Stat.
[4] Norman v. State, 159 So. 3d 205 (Fla. 4th DCA. 2015)
[5] United States v. Spann, 2015 U.S. Dist. LEXIS 57386, 11-12 (S.D. Fla. Apr. 21, 2015)
[6] https://www.youtube.com/watch?v=pns3_Peke30:
About Florida Carry, Inc.:
Florida Carry, Inc. is a non-profit, non-partisan, grassroots organization dedicated to advancing the fundamental rights of all Floridians to keep and bear arms for self-defense as guaranteed by the Second Amendment to the United States Constitution and Article I, Sections 2 and 8 of the Florida Constitution. Florida Carry stands to represent our supporters, members, and millions of defensive arms owners of Florida. We are not beholden to any national organization's agenda that may compromise that mission. Florida Carry works tirelessly toward striking down ill-conceived gun and weapons control laws that have been proven to provide safe havens to criminals and be deadly to law-abiding citizens.
For more information, please visit www.FloridaCarry.org.