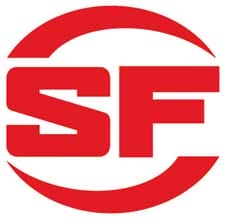 Fountain Valley, CA -(AmmoLand.com)- SureFire, LLC, manufacturer of high-end illumination tools and tactical products, has upgraded its line of revolutionary V-Series LED flashlights and WeaponLights—which provide both white light and infrared illumination from one sealed head—to dramatically improve the amount of white light they generate.
V-Series lights now produce up to 133 percent more white-light output, thanks to improved efficiency in the LED emitters they use. One-battery, three-volt V-Series lights, which previously generated 120 lumens of white light, now produce 250 lumens; two-battery, six-volt versions now produce 350 lumens, a 200-lumen increase from their previous maximum output of 150 lumens.
Dual-spectrum SureFire V-Series illumination tools ("V" stands for vampire) feature a white-light and infrared LED inside of one weatherproof head. A proprietary Total Internal Reflection (TIR) lens focuses the output from either of the two LEDs into a smooth, useful beam with ample reach and enough surround light to accommodate peripheral vision. By twisting the light's self-locking selector bezel, a user can go from a tactical-level beam of overwhelming white light—now at even higher outputs—to an invisible (to the naked eye) infrared beam for use with night vision devices (NVDs) on stealth missions. Unlike other white lights that require an infrared filter to produce IR illumination, a V-Series light doesn't use a filter, which can be lost, left behind, or damaged. Simply twist its selector ring to the IR or white-light setting—even on the fly—to get the desired spectrum for the task at hand.
V-Series technology is featured across all of SureFire's WeaponLight platforms and is also offered in a hand held configuration. Specific models upgraded include the V1 Vampire handheld and M300V Scout Light — both of which are now 250 lumens—as well as the M600V Scout Light and two X-Series lights—the X300V and X400V IR—these latter three models now producing 350 lumens of blinding white light. All subsequent V-Series lights developed will also take advantage of current and future gains in output from increased LED efficiency. Since its inception, SureFire has been committed to continually improving product performance and passing performance gains on to its customers.
New and improved V-Series illumination tools are available for purchase from authorized SureFire dealers or directly from SureFire by visiting www.surefire.com or calling 800-828-8809.
About SureFire:
Located in Fountain Valley, California, SureFire, LLC is the leading manufacturer of high performance flashlights, weapon-mounted lights, and other tactical equipment for those who go in harm's way, or anyone who demands the ultimate in quality, innovation, and performance. SureFire illumination tools are used by more SWAT teams and elite special operations groups than any other brand. SureFire is an ISO 9001:2000-certified company.
For more information, visit: www.SureFire.com.