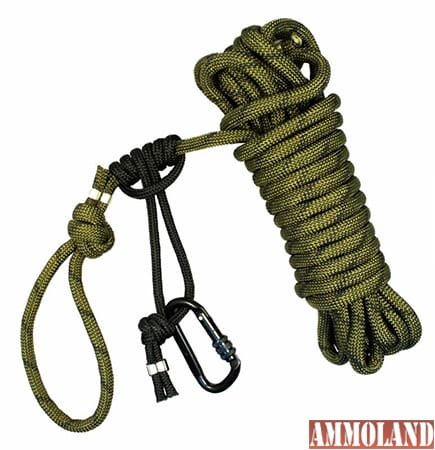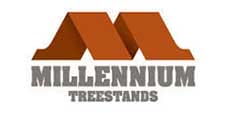 Pearl, MI -(AmmoLand.com)- Gravity never falls asleep. It never loses focus. It never gets tired. It never gets distracted. It never varies and never makes a mistake.
Human beings, on the other hand, do all of those things from time to time. That's why falling from treestands is the single most common cause of death and serious injury for deer hunters.
But many hunters don't know that relatively few of these falls happen from the treestand itself – they happen as the hunters are climbing in and out of the stand. An even more surprising fact: nowadays over 80 percent of hunters who are seriously injured in a fall were wearing a safety vest when they fell.
The safety vests didn't fail – the hunters wore them, but didn't have them hooked to a safety line while they were climbing in and out of the stand. They may have been safely secured while they were sitting in their stands for 12 hours, but when they got ready to leave, they unhooked their safety vests and tried to climb down unsecured.
The people at Millennium Treestands want to change that. Over the years they've built a reputation for producing sturdy, safe and effective stands. They know that building a safe product is no accident. But for their customers to be even safer, Millennium has taken that extra step.
This year Millennium becomes the first treestand manufacturer to ensure that their customers have the proper gear to be as safe as possible by including their new SafeLink Treestand Safety Line with the purchase of any hang-on or ladder stand.
Millennium's SafeLink is a 35-foot-long safety line with a Prusik knot and carabiner rated to check the fall of up to 350 pounds, allowing the hunter to hook his vest to the SafeLink for a risk-free ascent into and descent from the stand. In Millennium's 2-man stands, the SafeLinks come with double Prusik knots and two carabiners.
Prusik knots – a friction hitch that does no damage to the main safety line – are used in mountain climbing as a matter of routine, mainly because, like gravity, it doesn't get tired and it always works.
For Millenium Treestands, going the extra mile for safety has always been part of their mission. Now they're taking a big step forward in safety, to make sure that every step their customers make is safe too.
About Millennium Treestands:
Millennium Treestands have long been recognized as the most quiet and comfortable stands on the market. Every angle, hinge and weld has been tested under the most extreme conditions by the most cynical and scrutinizing hunters.
For more information, please visit www.MillenniumStands.com.