By Mike Searson
Chiappa Rhino Revolver Review; My first thought was "That's stupid".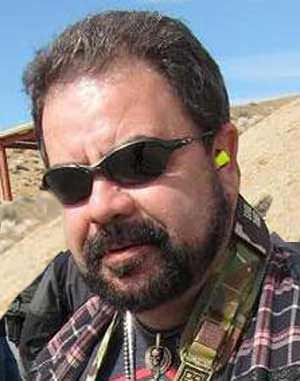 United States -(AmmoLand.com)- Sometimes a new firearm comes out that just makes you want to hate it.
Whether it's a 16″ bolt gun in 223 with Safari type sights (for taking down a charging jack rabbit, obviously) or a five shot revolver rifle chambered in 410 shotgun (in case you get attacked by a flock of wild pigeons).
We typically have a live and let live philosophy when it comes to firearms. It may not be the one for me, but someone else can get some enjoyment or use out of it. That is (or was) until we saw pictures of the Chiappa Rhino.
The oldest piece in our firearms collection is a Smith & Wesson Model 1 tip-up revolver dated to the 1860s. We own revolvers that belonged to famous lawmen and still carry a wheel gun on occasion. They may lack the capacity of a modern semiautomatic, but they usually make up for it in style.
We hated Chiappa's Rhino on sight. Gone were the sleek curves of a classic S&W J-frame or Colt Single Action Army. It was square for the love of all things holy and the barrel and firing pin are upside down compared to a traditional revolver.
They might as well adorn it with Picatinny rails for the mall ninja circuit and make Sam Colt turn in his grave faster than a rotisserie chicken at Costco.
The other red flag we had on these revolvers was that everyone we know who owned one, liked it, but traded it off after a year or two for something else. That is never a good sign for guns or cars.
Our point of view reversed dramatically after we gave it a chance on the range. This was the Chiappa Rhino Revolver , 200DS model, in 357 Magnum and intended as a concealed carry piece.
Chiappa Rhino Revolver The Good
The designer at Chiappa knew what he was doing when he went to the drawing board with the Rhino. Dropping the barrel down gives a much lower bore axis and transmits the recoil into the center of the shooting hand in line with the muscles of the shooter's forearm.
What we considered an ugly rubber grip actually absorbs the brunt of the recoil to make for a very pleasant shooter. There are cutouts on either side of the rear of the trigger guard for aesthetics.
Opening the cylinder is perhaps the most unique method we have seen to date. Push down like a paddle release instead of, in like Ruger, back like Colt, or forward like Smith & Wesson. The gun is also Speedloader compatible.
With 148 grain hollow based wadcutters we shot a nice string with all rounds touching through the ten ring at 25 feet and breaking into the 9 ring. We bumped up to a 125 grain JHP load and a few 180 grain JHPs that were loaded fairly stout.
Felt recoil was just slightly more than that of the 38 Special, but alas the group was not as tight and we moved to the 8 ring.
Chiappa Rhino Revolver The Bad
Aside from its unconventional looks, we found very little wrong with the operation and workmanship of the Rhino.
Holster selection seems limited and thankfully we received a holster with the test revolver. Then again this is not like a Ruger or Smith & Wesson revolver that has a huge aftermarket of accessories and support.
Chiappa Rhino Revolver The Reality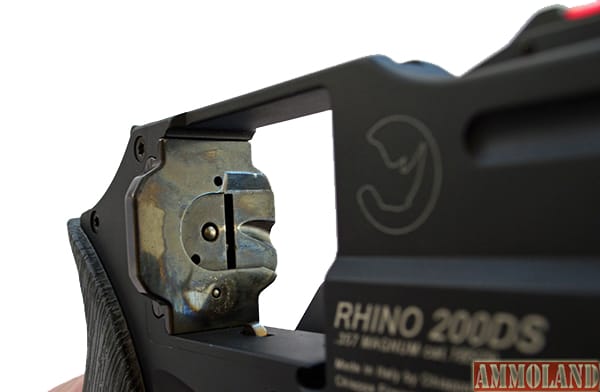 Looks aside, we will shoot an ugly gun all day if it performs on the range, but after a few shooting sessions, the Rhino was starting to grow on us.
We think our initial prejudice may have been formed by how much of a departure this revolver was from the rest of the crowd. Let's face it, apart from materials and cosmetic changes how different is the Ruger SP-101 from the Colt New Service?
Chiappa's Rhino has a squared off cylinder to eliminate the biggest problem with revolvers for concealed carry, the profile of the cylinder. This was an effort to slim it down or trim it up and it is effective in this regard.
I guess if you are building an upside down gun, you don't just think outside the box, you throw the box away.
If you are a revolver geek, the hammer and firing pin will give you Agita. We were checking the action while dry firing and noticed the hammer is in the expected position for a revolver, but you have to know to look for the firing pin in the bottom half of the cylinder as opposed to the top.
What is cool is that you can cock the hammer as if you were going to fire single action and it returns to the "down" position, leaving the firing pin cocked and giving about a 3.5 pound trigger pull.
We can see this being popular for the ultra-modern concept of a revolver and are glad that seeing one work in action brought us from the brink of the precipice of shouting "That's stupid".
The Chiappa Rhino Revolver is unconventional, for sure, but it works very well. As it was intended.
Chiappa Rhino Revolver Resources:
About Mike Searson:
Mike Searson's career as a shooter began as a Marine Rifleman at age 17. He has worked in the firearms industry his entire adult life as a Gunsmith, Ballistician, Consultant, Salesman, Author and was first certified to teach firearms safety in 1989.
Mike has written over 2000 articles for a number of magazines, websites and newsletters including Blade, RECOIL, OFF-GRID, Tactical Officer, SWAT, Tactical World, Gun Digest, Examiner.com and the US Concealed Carry Association as well as AmmoLand Shooting Sports News.